Cross measurement, or also known as PCD, is the measurement of the diameter of a circle drawn through all the wheel bolts on the rim.
In everyday speech, the cross measure is also called the bolt circle, PCD, or bolt pattern.
The cross dimension of a rim is usually written as the number of bolts X / * distance. That is, a 5 x 112 rim has 5 bolts and a circle diameters of 112mm.
Rims can have from 3 to 6 bolt holes, but the most common in Denmark are 4 or 5 bolt holes.
The PCD on the car is important to comply with if you want to change your rims, although it is possible with adapters to change the PCD, this is not recommended, as it is not legal to drive with these in Denmark.
Measure the PCD yourself
If you want to measure the cross dimension yourself, it can be a difficult turn depending on whether your rim has 4 or 5 bolt holes. Measuring the distance on a 5 hole rim is far worse than a 4 hole.
You can also look up your car in our wheel data database and see which intersection your car is driving with.
In the picture below you can see how to measure a rim with 4 bolt holes and one with 5 bolt holes.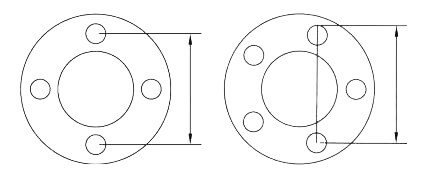 Cars with 3 bolts PCD:
Citroen AX from 1987 – 1998 has PCD 3 x 108
Smart Roadster from 2002 – 2007 has PCD 3 x 112
Smart Fortwo from 2004 – 2006 has PCD 3 x 112
Smart Fortwo Back from 2007 – 2014 has PCD 3 x 112
Smart Fortwo Front from 2007 – 2014 has PCD 3 x 112
Cars with 4 bolts PCD:
Alfa Romeo Alfasud from 1971 – 1983 has PCD 4 x 98
Alfa Romeo Sprint from 1976 – 1989 has PCD 4 x 98
Alfa Romeo Spider from 1966 – 1993 has PCD 4 x 108
Alfa Romeo Alfetta from 1972 – 1984 has PCD 4 x 98
Alfa Romeo Giulietta from 1954 – 2010 has PCD 4 x 98
Alfa Romeo GTV from 1974 – 1981 has PCD 4 x 98
Alfa Romeo 75 from 1985 – 1992 has PCD 4 x 98
Alfa Romeo 90 from 1984 – 1988 has PCD 4 x 98
Alfa Romeo 33 from 1987 – 1994 has PCD 4 x 98
Alfa Romeo 164 from 1988 – 1998 has PCD 4 x 98
Alfa Romeo 155 from 1992 – 1997 has PCD 4 x 98
Alfa Romeo 145 from 1994 – 2000 has PCD 4 x 98
Alfa Romeo 146 from 1994 – 2000 has PCD 4 x 98
Alfa Romeo Mito from 2008 – 2015 has PCD 4 x 98
Audi 100 from 1976 – 1982 has PCD 4 x 108
Audi 80 from 1978 – 1986 has PCD 4 x 100
Audi 80 Coupe from 1985 – 1996 has PCD 4 x 108
Audi 80 Quattro from 1986 – 1991 has PCD 4 x 108
Audi 90 Quattro from 1986 – 1991 has PCD 4 x 108
Audi 80 Avant from 1991 – 1996 has PCD 4 x 108
Audi 100 from 1982 – 1985 has PCD 4 x 108
Audi 80 Coupe from 1980 – 1987 has PCD 4 x 100
Audi 80 from 1986 – 1994 has PCD 4 x 108
Audi 90 from 1986 – 1994 has PCD 4 x 108
Chevrolet Aveo from 2006 – 2011 has PCD 4 x 100
Chevrolet Epica from 2006 – 2011 has PCD 4 x 114,3
Chevrolet Evanda from 2003 – 2006 has PCD 4 x 114,3
Chevrolet Kalos from 2002 – 2007 has PCD 4 x 100
Chevrolet Lacetti from 2004 – 2010 has PCD 4 x 114,3
Chevrolet Lanos from 1997 – 2004 has PCD 4 x 100
Chevrolet Matiz from 1998 – 2010 has PCD 4 x 114,3
Chevrolet Nexia from 1995 – 1998 has PCD 4 x 100
Chevrolet Nubira from 1997 – 2003 has PCD 4 x 100
Chevrolet Nubira from 2004 – 2011 has PCD 4 x 114,3
Chevrolet Tacuma from 2001 – 2008 has PCD 4 x 114,3
Chevrolet Spark from 2010 – 2015 has PCD 4 x 100
Peugeot 106 from 1992 – 2004 has PCD 4 x 108
Peugeot 107 from 2005 – 2014 has PCD 4 x 100
Peugeot 1007 from 2005 – 2009 has PCD 4 x 108
Peugeot 205 from 1983 – 1994 has PCD 4 x 108
Peugeot 206 from 1998 – 2006 has PCD 4 x 108
Peugeot 206plus from 2007 – 2012 has PCD 4 x 108
Peugeot 207 from 2006 – 2011 has PCD 4 x 108
Peugeot 305 from 1977 – 1989 has PCD 4 x 108
Peugeot 306 from 1993 – 2002 has PCD 4 x 108
Peugeot 307 from 2001 – 2007 has PCD 4 x 108
Peugeot 308 from 2006 – 2013 has PCD 4 x 108
Peugeot 3008 from 2009 – 2015 has PCD 4 x 108
Peugeot 309 from 1985 – 1993 has PCD 4 x 108
Peugeot 405 from 1987 – 1995 has PCD 4 x 108
Peugeot 406 from 1995 – 2003 has PCD 4 x 108
Peugeot 5008 from 2009 – 2015 has PCD 4 x 108
Peugeot Bipper from 2008 – 2010 has PCD 4 x 98
Peugeot Partner from 1996 – 2009 has PCD 4 x 108
BMW 1600-2002 from 1969 – 1973 has PCD 4 x 100
BMW 1600-2002 from 1974 – 1975 has PCD 4 x 100
BMW 2002 Turbo from 1973 – 1975 has PCD 4 x 100
BMW 3 Serie from 1979 – 1982 has PCD 4 x 100
BMW Z1 from 1989 – 1992 has PCD 4 x 100
BMW 3 Serie E30 from 1982 – 1990 has PCD 4 x 100
Citroen Berlingo from 1997 – 2003 has PCD 4 x 108
Citroen Berlingo from 2003 – 2008 has PCD 4 x 108
Citroen Berlingo from 2008 – 2015 has PCD 4 x 108
Citroen C1 from 2005 – 2014 has PCD 4 x 100
Citroen C2 from 2003 – 2015 has PCD 4 x 108
Citroen C3 from 2002 – 2015 has PCD 4 x 108
Citroen C3 Picasso from 2002 – 2015 has PCD 4 x 108
Citroen C4 from 2004 – 2015 has PCD 4 x 108
Citroen C4 Picasso from 2004 – 2015 has PCD 4 x 108
Citroen C5 from 2001 – 2004 has PCD 4 x 108
Citroen C5 from 2004 – 2008 has PCD 4 x 108
Citroen Saxo from 1996 – 2003 has PCD 4 x 108
Citroen Xsara from 1997 – 2004 has PCD 4 x 108
Citroen Xantia from 1993 – 2001 has PCD 4 x 108
Citroen ZX from 1991 – 1998 has PCD 4 x 108
Citroen BX from 1982 – 1994 has PCD 4 x 108
Daewoo Nubira from 1997 – 2004 has PCD 4 x 100
Daewoo Lanos from 1997 – 2004 has PCD 4 x 100
Daewoo Espero from 1995 – 1999 has PCD 4 x 100
Daewoo Nexia from 1994 – 1997 has PCD 4 x 100
Fiat 124 from 1966 – 1974 has PCD 4 x 98
Fiat 125 from 1967 – 1972 has PCD 4 x 98
Fiat 127 from 1971 – 1983 has PCD 4 x 98
Fiat 128 from 1969 – 1985 has PCD 4 x 98
Fiat 131 from 1974 – 1984 has PCD 4 x 98
Fiat 132 from 1972 – 1981 has PCD 4 x 98
Fiat Fiorino from 2008 – 2015 has PCD 4 x 98
Fiat Regata from 1988 – 1991 has PCD 4 x 98
Fiat Ritmo from 1979 – 1989 has PCD 4 x 98
Fiat X1/9 from 1972 – 1989 has PCD 4 x 98
Fiat Panda from 1984 – 1994 has PCD 4 x 98
Fiat Uno from 1983 – 1989 has PCD 4 x 98
Fiat Coupe from 1994 – 2000 has PCD 4 x 98
Fiat Punto 55 from 1993 – 1999 has PCD 4 x 98
Fiat Punto 75 from 1993 – 1999 has PCD 4 x 98
Fiat Croma from 1985 – 1990 has PCD 4 x 98
Fiat Tempra from 1990 – 1996 has PCD 4 x 98
Fiat Tipo from 1988 – 1995 has PCD 4 x 98
Fiat Cinquecento from 1994 – 1998 has PCD 4 x 98
Fiat Brava from 1995 – 2001 has PCD 4 x 98
Fiat Bravo from 1995 – 2001 has PCD 4 x 98
Fiat Barchetta from 1995 – 2005 has PCD 4 x 98
Fiat Marea from 1996 – 2002 has PCD 4 x 98
Fiat 500 from 2007 – 2015 has PCD 4 x 98
Fiat Bravo from 2007 – 2015 has PCD 4 x 98
Fiat Doblo from 2001 – 2005 has PCD 4 x 98
Fiat Grande Punto from 2006 – 2009 has PCD 4 x 100
Fiat Idea from 2003 – 2012 has PCD 4 x 98
Fiat Multipla from 1999 – 2010 has PCD 4 x 98
Fiat Panda from 2003 – 2012 has PCD 4 x 98
Fiat Punto from 1999 – 2005 has PCD 4 x 98
Fiat Qubo from 2008 – 2015 has PCD 4 x 98
Fiat Seicento from 1998 – 2010 has PCD 4 x 98
Fiat Stilo from 2001 – 2008 has PCD 4 x 98
Ford Contour from 1992 – 1996 has PCD 4 x 108
Ford Cougar from 1998 – 2001 has PCD 4 x 108
Ford Escort from 1983 – 1989 has PCD 4 x 108
Ford Escort Cosworth from 1992 – 1996 has PCD 4 x 108
Ford Mondeo from 1993 – 2000 has PCD 4 x 108
Ford Orion from 1985 – 1993 has PCD 4 x 108
Ford Sierra RS Cosworth from 1986 – 1992 has PCD 4 x 108
Ford Puma from 1997 – 2002 has PCD 4 x 108
Ford Sierra from 1982 – 1993 has PCD 4 x 108
Ford Sierra 4×4 from 1987 – 1993 has PCD 4 x 108
Ford Scorpio from 1995 – 1999 has PCD 4 x 108
Ford Fiesta from 1976 – 1983 has PCD 4 x 108
Ford Escort from 1990 – 1998 has PCD 4 x 108
Ford Fiesta from 1996 – 2001 has PCD 4 x 108
Ford Fiesta from 2002 – 2008 has PCD 4 x 108
Ford Fiesta from 2008 – 2015 has PCD 4 x 108
Ford Focus from 1998 – 2004 has PCD 4 x 108
Ford Fusion from 2002 – 2005 has PCD 4 x 108
Ford KA from 1996 – 2006 has PCD 4 x 108
Ford KA from 2008 – 2015 has PCD 4 x 98
Ford Street-KA from 2003 – 2008 has PCD 4 x 108
Chevrolet Cobalt from 2004 – 2010 has PCD 4 x 100
Chevrolet Cobalt SS from 2004 – 2010 has PCD 4 x 100
Honda Accord from 1999 – 2003 has PCD 4 x 114,3
Honda Civic VTi from 1996 – 2000 has PCD 4 x 114,3
Honda Civic from 1980 – 1983 has PCD 4 x 100
Honda Logo from 1999 – 2003 has PCD 4 x 100
Honda Quintet from 1980 – 1985 has PCD 4 x 100
Honda Shuttle from 1994 – 2000 has PCD 4 x 100
Honda Aerodeck from 1986 – 1989 has PCD 4 x 100
Honda Prelude from 1979 – 1982 has PCD 4 x 100
Honda Civic from 1983 – 1988 has PCD 4 x 100
Honda Prelude from 1992 – 1997 has PCD 4 x 114,3
Honda Prelude from 1997 – 2002 has PCD 4 x 114,3
Honda Accord from 1986 – 1989 has PCD 4 x 100
Honda Accord from 1989 – 1998 has PCD 4 x 114,3
Honda Civic CRX from 1988 – 1991 has PCD 4 x 100
Honda Civic from 1988 – 1991 has PCD 4 x 100
Honda Civic VTEC from 1991 – 1996 has PCD 4 x 100
Honda Concerto from 1991 – 1994 has PCD 4 x 100
Honda Legend from 1987 – 1991 has PCD 4 x 114,3
Honda Accord from 1982 – 1986 has PCD 4 x 100
Honda Civic from 1996 – 2000 has PCD 4 x 100
Honda Civic from 2001 – 2005 has PCD 4 x 100
Honda Insight Hybrid from 2009 – 2015 has PCD 4 x 100
Honda Jazz from 2002 – 2008 has PCD 4 x 100
Honda Jazz from 2008 – 2015 has PCD 4 x 100
Hyundai Atos from 1998 – 2001 has PCD 4 x 114,3
Hyundai Atos from 2001 – 2004 has PCD 4 x 100
Hyundai Atos Prime from 2006 – 2008 has PCD 4 x 100
Hyundai Elantra from 2000 – 2003 has PCD 4 x 114,3
Hyundai Elantra from 1991 – 1996 has PCD 4 x 114,3
Hyundai Coupe from 1997 – 2002 has PCD 4 x 114,3
Hyundai Coupe from 2001 – 2009 has PCD 4 x 114,3
Hyundai Getz from 2002 – 2009 has PCD 4 x 100
Hyundai S-Coupe from 1989 – 1996 has PCD 4 x 114,3
Hyundai Pony from 1989 – 1994 has PCD 4 x 114,3
Hyundai Accent from 1994 – 1999 has PCD 4 x 114,3
Hyundai Accent from 1999 – 2005 has PCD 4 x 100
Hyundai Sonata from 1988 – 1993 has PCD 4 x 114,3
Hyundai i10 from 2008 – 2013 has PCD 4 x 100
Hyundai i20 from 2008 – 2015 has PCD 4 x 100
Hyundai Matrix from 2001 – 2015 has PCD 4 x 114,3
Hyundai Sonata from 1991 – 2001 has PCD 4 x 114,3
Hyundai Sonata from 2001 – 2005 has PCD 4 x 114,3
Kia Motors Pride from 1995 – 2000 has PCD 4 x 114,3
Kia Motors Shuma from 1998 – 2004 has PCD 4 x 100
Kia Motors Sephia from 1992 – 1999 has PCD 4 x 100
Kia Motors Clarus from 1998 – 2002 has PCD 4 x 114,3
Kia Motors Cerato from 2004 – 2008 has PCD 4 x 114,3
Kia Motors Carens from 2002 – 2006 has PCD 4 x 114,3
Kia Motors Magentis from 2001 – 2006 has PCD 4 x 114,3
Kia Motors Picanto from 2004 – 2007 has PCD 4 x 100
Kia Motors Rio from 2002 – 2005 has PCD 4 x 100
Kia Motors Rio from 2005 – 2011 has PCD 4 x 100
Mazda Demio from 1996 – 2003 has PCD 4 x 100
Mazda 323 from 1994 – 2000 has PCD 4 x 100
Mazda 323 from 1985 – 1991 has PCD 4 x 114,3
Mazda 323 F from 1989 – 1994 has PCD 4 x 100
Mazda 323 4WD from 1990 – 1994 has PCD 4 x 100
Mazda 121 from 1988 – 1991 has PCD 4 x 100
Mazda 121 from 1991 – 1995 has PCD 4 x 100
Mazda MX-3 from 1991 – 1994 has PCD 4 x 100
Mazda 626 from 1983 – 1992 has PCD 4 x 114,3
Mazda 929 from 1982 – 1987 has PCD 4 x 114,3
Mazda 121 from 1996 – 2002 has PCD 4 x 108
Mazda MX-5 from 1991 – 2005 has PCD 4 x 100
Mazda RX-7 from 1979 – 1986 has PCD 4 x 114,3
Mazda 2 from 2003 – 2007 has PCD 4 x 108
Mazda 2 from 2007 – 2014 has PCD 4 x 100
Mazda 323 from 1998 – 2003 has PCD 4 x 100
Mazda 323 F from 1994 – 1998 has PCD 4 x 100
Mazda 323 F from 1998 – 2003 has PCD 4 x 100
Mazda MX-3 from 1994 – 1998 has PCD 4 x 100
Mitsubishi Starion from 1983 – 1986 has PCD 4 x 114,3
Mitsubishi Tredia from 1982 – 1990 has PCD 4 x 114,3
Mitsubishi Colt C10 from 1984 – 1992 has PCD 4 x114,3
Mitsubishi Colt C50 from 1984 – 1992 has PCD 4 x114,3
Mitsubishi Lancer STV C10V from 1985 – 1992 has PCD 4 x 114,3
Mitsubishi Colt Turbo C50 from 1988 – 1992 has PCD 4 x 114,3
Mitsubishi Lancer C50 from 1991 – 1996 has PCD 4 x 114,3
Mitsubishi Lancer C60 from 1978 – 1991 has PCD 4 x 114,3
Mitsubishi Lancer 4WD C70 from 1988 – 1991 has PCD 4 x 114,3
Mitsubishi Lancer STV CA0 from 1991 – 1996 has PCD 4 x 100
Mitsubishi Lancer STV CA0W from 1991 – 1996 has PCD 4 x 100
Mitsubishi Colt CA0 from 1992 – 1996 has PCD 4 x 100
Mitsubishi Colt CA0W from 1992 – 1996 has PCD 4 x 100
Mitsubishi Lancer CJ0 from 1991 – 1996 has PCD 4 x 100
Mitsubishi Carisma DA0 90hk from 1995 – 1999 has PCD 4 x 100
Mitsubishi Carisma DA0 140hk from 1995 – 1999 has PCD 4 x 100
Mitsubishi Galant E31 from 1989 – 1991 has PCD 4 x 114,3
Mitsubishi Galant E32 from 1989 – 1991 has PCD 4 x 114,3
Mitsubishi Galant E33 from 1989 – 1991 has PCD 4 x 114,3
Mitsubishi Galant E39 from 1989 – 1991 has PCD 4 x 114,3
Mitsubishi Galant E52 from 1992 – 1998 has PCD 4 x 114,3
Mitsubishi Galant E53 from 1992 – 1998 has PCD 4 x 114,3
Mitsubishi Galant E54 from 1992 – 1998 has PCD 4 x 114,3
Mitsubishi Galant E57 from 1992 – 1998 has PCD 4 x 114,3
Mitsubishi Galant E64 from 1992 – 1998 has PCD 4 x 114,3
Mitsubishi Galant E72 from 1992 – 1998 has PCD 4 x 114,3
Mitsubishi Galant E74 from 1992 – 1998 has PCD 4 x 114,3
Mitsubishi Galant E77 from 1992 – 1998 has PCD 4 x 114,3
Mitsubishi Galant E88 from 1992 – 1998 has PCD 4 x 114,3
Mitsubishi Galant EA1 from 1996 – 2003 has PCD 4 x 114,3
Mitsubishi Galant EA3 from 1996 – 2003 has PCD 4 x 114,3
Mitsubishi Galant EA7 from 1996 – 2003 has PCD 4 x 114,3
Mitsubishi Galant EC1 from 1996 – 2003 has PCD 4 x 114,3
Mitsubishi Galant EC5 from 1996 – 2003 has PCD 4 x 114,3
Mitsubishi Galant EC7 from 1996 – 2003 has PCD 4 x 114,3
Mitsubishi Sapporo E16 from 1985 – 1990 has PCD 4 x 114,3
Mitsubishi Space Runner N10 from 1991 – 1997 has PCD 4 x 114,3
Mitsubishi Space Wagon N30 from 1983 – 1991 has PCD 4 x 114,3
Mitsubishi Space Wagon D00W from 1983 – 1991 has PCD 4 x 114,3
Nissan 100 NX from 1991 – 1996 has PCD 4 x 100
Nissan Praire from 1980 – 1887 has PCD 4 x 114,3
Nissan Cherry from 1979 – 1987 has PCD 4 x 114,3
Nissan 200 SX from 1984 – 1989 has PCD 4 x 114,3
Nissan Stanza from 1986 – 1990 has PCD 4 x 114,3
Nissan Bluebird from 1983 – 1998 has PCD 4 x 114,3
Nissan 200 SX S13 from 1989 – 1994 has PCD 4 x 114,3
Nissan Sunny from 1991 – 1995 has PCD 4 x 100
Nissan Sunny B11 from 1982 – 1986 has PCD 4 x 114,3
Nissan Prairie from 1988 – 1995 has PCD 4 x 114,3
Nissan Almera N15 from 1995 – 2000 has PCD 4 x 100
Nissan Almera N16 from 2000 – 2006 has PCD 4 x 114,3
Nissan Primera P10 from 1990 – 1996 has PCD 4 x 114,3
Nissan Primera P11 from 1996 – 2002 has PCD 4 x 114,3
Opel Adam from 2012 – 2015 has PCD 4 x 100
Opel Agila from 2000 – 2008 has PCD 4 x 100
Opel Agila from 2008 – 2015 has PCD 4 x 100
Opel Ascona A from 1970 – 1975 has PCD 4 x 100
Opel Ascona B from 1975 – 1981 has PCD 4 x 100
Opel Ascona C from 1981 – 1988 has PCD 4 x 100
Opel Astra G from 1998 – 2004 has PCD 4 x 100
Opel Astra H from 2004 – 2009 has PCD 4 x 100
Opel Calibra A from 1990 – 1997 has PCD 4 x 100
Opel Combo from 2001 – 2010 has PCD 4 x 100
Opel Corsa B from 1993 – 2000 has PCD 4 x 100
Opel Corsa C from 2000 – 2006 has PCD 4 x 100
Opel Corsa D from 2006 – 2015 has PCD 4 x 100
Opel Kadett C from 1973 – 1980 has PCD 4 x 100
Opel Kadett E from 1984 – 1991 has PCD 4 x 100
Opel Karl from 2015 – 2015 has PCD 4 x 100
Opel Manta A from 1970 – 1975 has PCD 4 x 100
Opel Manta from 1975 – 1988 has PCD 4 x 100
Opel Meriva from 2003 – 2010 has PCD 4 x 100
Opel Rekord D from 1972 – 1977 has PCD 4 x 100
Opel Rekord E from 1977 – 1986 has PCD 4 x 100
Opel Tigra from 1994 – 2000 has PCD 4 x 100
Opel Tigra Twin Top from 2004 – 2009 has PCD 4 x 100
Opel Vectra A from 1988 – 1995 has PCD 4 x 100
Opel Vectra B from 1995 – 1998 has PCD 4 x 100
Peugeot 2008 from 2013 – 2015 has PCD 4 x 108
Peugeot 206 from 2007 – 2009 has PCD 4 x 108
Peugeot 206 CC from 2001 – 2007 has PCD 4 x 108
Peugeot 207 CC from 2007 – 2014 has PCD 4 x 108
Peugeot 208 from 2012 – 2015 has PCD 4 x 108
Peugeot 307 CC from 2003 – 2009 has PCD 4 x 108
Peugeot 308 CC from 2007 – 2015 has PCD 4 x 108
Peugeot 406 Coupe from 1996 – 2005 has PCD 4 x 108
Peugeot iON from 2009 – 2015 has PCD 4 x 100
Porsche 924 from 1976 – 1987 has PCD 4 x 108
Renault R19 from 1988 – 1992 has PCD 4 x 100
Renault Safromne from 1992 – 2000 has PCD 4 x 100
Renault R5 from 1984 – 1993 has PCD 4 x 100
Renault Espace from 1983 – 1990 has PCD 4 x 100
Renault R21 from 1986 – 1994 has PCD 4 x 100
Renault 19 from 1989 – 1995 has PCD 4 x 100
Renault Captur from 2013 – 2015 has PCD 4 x 100
Renault Clio from 1991 – 1998 has PCD 4 x 100
Renault Clio from 1998 – 2005 has PCD 4 x 100
Renault Clio from 2005 – 2012 has PCD 4 x 100
Renault Clio from 2013 – 2015 has PCD 4 x 100
Renault Clio GrandTour from 2013 – 2015 has PCD 4 x 100
Renault Clio Kombi from 2008 – 2015 has PCD 4 x 100
Renault Clio Sport from 2013 – 2015 has PCD 4 x 114,3
Renault Grand Scenic from 2003 – 2009 has PCD 4 x 100
Renault Kangoo from 1998 – 2007 has PCD 4 x 100
Renault Kangoo from 2008 – 2015 has PCD 4 x 100
Renault Laguna from 1994 – 2000 has PCD 4 x 100
Renault Megane from 1995 – 2002 has PCD 4 x 100
Renault Megane from 2002 – 2008 has PCD 4 x 100
Renault Megane from 2003 – 2009 has PCD 4 x 100
Renault Megane Scenic from 1996 – 2003 has PCD 4 x 100
Renault Megane Scenic from 2004 – 2009 has PCD 4 x 100
Renault Modus from 2004 – 2015 has PCD 4 x 100
Renault Twingo from 1993 – 2007 has PCD 4 x 100
Renault Twingo from 2007 – 2015 has PCD 4 x 100
Renault Wind from 2010 – 2015 has PCD 4 x 100
Renault Zoe from 2014 – 2015 has PCD 4 x 100
Rover 200 Serie from 1996 – 2000 has PCD 4 x 100
Rover 25 from 2000 – 2006 has PCD 4 x 100
Rover 400 Serie from 1989 – 2000 has PCD 4 x 100
Rover 45 from 2000 – 2006 has PCD 4 x 100
Rover 600 Serie from 1993 – 1999 has PCD 4 x 114,3
Rover 800 Serie from 1992 – 1998 has PCD 4 x 114,3
Rover CityRover from 2004 – 2006 has PCD 4 x 100
Rover MGF Roadster from 1996 – 2006 has PCD 4 x 95,25
Rover Streetwise from 2004 – 2006 has PCD 4 x 100
Saab 90 from 1984 – 1987 has PCD 4 x 114,3
Saab 90 from 1978 – 1988 has PCD 4 x 114,3
Saab 900 from 1988 – 1993 has PCD 4 x 108
Saab 9000 from 1985 – 1997 has PCD 4 x 108
Seat Ibiza from 1984 – 1993 has PCD 4 x 98
Seat Ronda from 1983 – 1986 has PCD 4 x 98
Seat Malaga from 1985 – 1991 has PCD 4 x 98
Seat Marbella from 1986 – 1998 has PCD 4 x 98
Seat Inca from 1995 – 2003 has PCD 4 x 100
Seat Arosa from 1997 – 2005 has PCD 4 x 100
Seat Cordoba from 1993 – 2002 has PCD 4 x 100
Seat Ibiza from 1993 – 2002 has PCD 4 x 100
Seat Mii from 2012 – 2015 has PCD 4 x 100
Seat Toledo from 1991 – 1998 has PCD 4 x 100
Skoda Favorit from 1987 – 1994 has PCD 4 x 98
Skoda Forman from 1987 – 1994 has PCD 4 x 98
Skoda Citigo from 2012 – 2015 has PCD 4 x 100
Skoda Felicia from 1994 – 2000 has PCD 4 x 100
Skoda Felicia Pickup from 1996 – 2000 has PCD 4 x 100
Smart Forfour from 2004 – 2006 has PCD 4 x 114,3
Suzuki Wagon R from 2000 – 2003 has PCD 4 x 100
Suzuki Alto from 1995 – 2002 has PCD 4 x 114,3
Suzuki Alto from 2002 – 2009 has PCD 4 x 100
Suzuki Alto from 2009 – 2015 has PCD 4 x 100
Suzuki Baleno from 1995 – 2002 has PCD 4 x 100
Suzuki Celerio from 2015 – 2015 has PCD 4 x 100
Suzuki Estem from 1995 – 2002 has PCD 4 x 100
Suzuki Ignis from 2000 – 2003 has PCD 4 x 100
Suzuki Ignis from 2003 – 2008 has PCD 4 x 100
Suzuki Liana from 2001 – 2007 has PCD 4 x 100
Suzuki Splash from 2008 – 2015 has PCD 4 x 100
Suzuki Swift from 1989 – 2003 has PCD 4 x 114,3
Suzuki Swift from 2005 – 2010 has PCD 4 x 100
Suzuki Swift from 2010 – 2015 has PCD 4 x 100
Suzuki Swift 4WD from 2010 – 2015 has PCD 4 x 100
Subaru Trendy from 1984 – 1995 has PCD 4 x 100
Subaru Justy from 1984 – 1995 has PCD 4 x 100
Subaru Justy from 1995 – 2003 has PCD 4 x 114,3
Subaru Justy from 2006 – 2010 has PCD 4 x 100
Subaru Vivio from 1992 – 1998 has PCD 4 x 100
Toyota Tercel 4×4 from 1983 – 1999 has PCD 4 x 100
Toyota Paseo from 1991 – 1999 has PCD 4 x 100
Toyota Starlet from 1985 – 1989 has PCD 4 x 100
Toyota Carina from 1984 – 1988 has PCD 4 x 100
Toyota Celica from 1990 – 1994 has PCD 4 x 100
Toyota Aygo from 2005 – 2015 has PCD 4 x 100
Toyota Corolla from 1987 – 1997 has PCD 4 x 10
Toyota Corolla from 1997 – 2001 has PCD 4 x 100
Toyota Corolla from 2002 – 2007 has PCD 4 x 100
Toyota Corolla Verso from 2002 – 2004 has PCD 4 x 100
Toyota IQ from 2009 – 2015 has PCD 4 x 100
Toyota MR2 from 1999 – 2007 has PCD 4 x 100
Toyota Paseo from 1996 – 2000 has PCD 4 x 100
Toyota MR2 from 1984 – 1988 has PCD 4 x 100
Toyota Prius from 1997 – 2003 has PCD 4 x 100
Toyota Starlet from 1990 – 1999 has PCD 4 x 100
Toyota Yaris from 1999 – 2005 has PCD 4 x 100
Toyota Yaris from 2005 – 2011 has PCD 4 x 100
Toyota Yaris from 2011 – 2015 has PCD 4 x100
Toyota Yaris Verso from 1999 – 2007 has PCD 4 x 100
Volkswagen Passat from 1973 – 1980 has PCD 4 x 100
Volkswagen Derby from 1981 – 1990 has PCD 4 x 100
Volkswagen Polo from 1981 – 1990 has PCD 4 x 100
Volkswagen Jetta from 1974 – 1984 has PCD 4 x 100
Volkswagen Scirocco from 1974 – 1981 has PCD 4 x 100
Volkswagen Derby from 1974 – 1981 has PCD 4 x 100
Volkswagen Caddy from 1996 – 2003 has PCD 4 x 100
Volkswagen Corrado from 1988 – 1996 has PCD 4 x 100
Volkswagen Cross Up from 2013 – 2015 has PCD 4 x 100
Volkswagen e-Up from 2013 – 2015 has PCD 4 x 100
Volkswagen Golf 1 from 1974 – 1983 has PCD 4 x 100
Volkswagen Golf 2 from 1983 – 1992 has PCD 4 x 100
Volkswagen Golf 3 from 1991 – 1997 has PCD 4 x 100
Volkswagen Jetta from 1985 – 1991 has PCD 4 x 100
Volkswagen Lupo from 1998 – 2005 has PCD 4 x 100
Volkswagen Lupo GTI from 2002 – 2005 has PCD 4 x 100
Volkswagen Passat from 1983 – 1996 has PCD 4 x 100
Volkswagen Polo from 1994 – 2001 has PCD 4 x 100
Volkswagen Scirocco from 1981 – 1992 has PCD 4 x 100
Volkswagen Up from 2011 – 2015 has PCD 4 x 100
Volkswagen Vento from 1992 – 1998 has PCD 4 x 100
Volvo 340 from 1976 – 1991 has PCD 4 x 100
Volvo 440 from 1987 – 1997 has PCD 4 x 100
Volvo 460 from 1987 – 1997 has PCD 4 x 100
Volvo 480 from 1987 – 1995 has PCD 4 x 100
Volvo 850 from 1991 – 1993 has PCD 4 x 108
Volvo S40 from 1996 – 2004 has PCD 4 x 114,3
Volvo V40 from 1996 – 2004 has PCD 4 x 114,3
Alfa Romeo Alfetta GT from 1972 – 1987 has PCD 4 x 98
Alfa Romeo Arna from 1983 – 1987 has PCD 4 x 98
Alfa Romeo Berlina from 1967 – 1977 has PCD 4 x 108
Alfa Romeo Giulia from 1962 – 1978 has PCD 4 x 108
Alfa Romeo Junior from 2008 – 2015 has PCD 4 x 98
Alfa Romeo Mito 1,4 Sport from 2008 – 2015 has PCD 4 x 98
Alfa Romeo Mito 1,6 JTDm Sport from 2008 – 2015 has PCD 4 x 98
Aston Martin Cygnet from 2011 – 2015 has PCD 4 x 100
Audi A2 1,2 TDI from 2001 – 2005 has PCD 4 x 100
Lotus S1 from 1996 – 2001 has PCD 4 x 95,25
Lotus S2 RWD from 2002 – 2015 has PCD 4 x 100
Lotus Exige S1 from 2000 – 2004 has PCD 4 x 95,25
Mini Cooper from 1959 – 2000 has PCD 4 x 101,6
Mini Cooper from 2001 – 2006 has PCD 4 x 100
Mini Cooper Clubman from 2007 – 2015 has PCD 4 x 100
Mini Cooper Clubman S from 2007 – 2015 has PCD 4 x 100
Mini Cooper from 2006 – 2014 has PCD 4 x 100
Mini Cooper S from 2001 – 2006 has PCD 4 x 100
Mini Cooper S from 2006 – 2014 has PCD 4 x 100
Mini Coupe from 2011 – 2015 has PCD 4 x 100
Mini One from 2001 – 2006 has PCD 4 x 100
Mini One from 2006 – 2014 has PCD 4 x 100
Citroen DS3 from 2010 – 2015 has PCD 4 x 108
Citroen DS5 from 2012 – 2015 has PCD 4 x 108
Citroen DS4 from 2011 – 2015 has PCD 4 x 108
Citroen Nemo from 2008 – 2015 has PCD 4 x 98
Chevrolet Leganza from 2003 – 2006 has PCD 4 x 114,3
Chevrolet Rezzo from 2001 – 2008 has PCD 4 x 114,3
Chevrolet Aveo from 2011 – 2015 has PCD 4 x 100
Citroen C4 Cactus from 2014 – 2015 has PCD 4 x 108
Citroen Nemo from 2008 – 2015 has PCD 4 x 98
Citroen Xsara Picasso from 2000 – 2006 has PCD 4 x 108
Citroen AX GTI from 1991 – 1999 has PCD 4 x 108
Citroen C-Zero from 2010 – 2015 has PCD 4 x 100
Fiat 500 from 1957 – 1975 has PCD 4 x 98
Fiat Albea from 2002 – 2015 has PCD 4 x 98
Fiat Coupe Turbo from 1993 – 2000 has PCD 4 x 98
Fiat Doblo from 2005 – 2010 has PCD 4 x 98
Fiat Duna from 1985 – 1997 has PCD 4 x 98
Fiat Linea from 2007 – 2015 has PCD 4 x 98
Fiat Palio from 1998 – 2006 has PCD 4 x 98
Fiat Panda from 2012 – 2015 has PCD 4 x 98
Fiat Panda 4×4 from 2003 – 2012 has PCD 4 x 98
Fiat Petra from 1996 – 2012 has PCD 4 x 98
Fiat Punto Evo from 2009 – 2015 has PCD 4 x 100
Fiat Qubo from 2010 – 2015 has PCD 4 x 98
Fiat Siena from 1996 – 2012 has PCD 4 x 98
Fiat Strada from 1996 – 2012 has PCD 4 x 98
Fiat Strada from 2012 – 2015 has PCD 4 x 98
Ford B-Max from 2012 – 2015 has PCD 4 x 108
Ford Cougar from 1999 – 2004 has PCD 4 x 108
Ford Escort Express from 1990 – 1999 has PCD 4 x 108
Ford Escort RS Cosworth from 1992 – 1996 has PCD 4 x 108
Ford Focus ST170 from 2002 – 2004 has PCD 4 x 108
Ford Mondeo ST200 from 1995 – 200 has PCD 4 x 108
Ford Mustang from 1979 – 1993 has PCD 4 x 108
Honda CRX from 1992 – 1999 has PCD 4 x 100
Hyundai Accent from 2006 – 2011 has PCD 4 x 100
Hyundai Excel from 1994 – 1999 has PCD 4 x 114,3
Hyundai Excel from 2000 – 2006 has PCD 4 x 100
Hyundai Excel from 2006 – 2011 has PCD 4 x 100
Hyundai Getz Cross from 2007 – 2008 has PCD 4 x 100
Hyundai i10 from 2013 – 2015 has PCD 4 x 100
Hyundai Lantra from 1991 – 2000 has PCD 4 x 114,3
Hyundai Lantra from 2000 – 2006 has PCD 4 x 114,3
Kia Motors Credos from 1995 – 2001 has PCD 4 x 114,3
Kia Motors Joice from 1999 – 2002 has PCD 4 x 114,3
Kia Motors Optima from 2000 – 2005 has PCD 4 x 114,3
Kia Motors Picanto from 2004 – 2008 has PCD 4 x 100
Kia Motors Picanto from 2008 – 2015 has PCD 4 x 100
Kia Motors Rio from 2011 – 2015 has PCD 4 x 100
Mitsubishi Space Star from 1998 – 2005 has PCD 4 x 114,3
Mitsubishi Space Star from 2013 – 2015 has PCD 4 x 100
Mitsubishi Colt from 1992 – 2004 has PCD 4 x 100
Mitsubishi Colt from 2004 – 2008 has PCD 4 x 114,3
Mitsubishi Colt from 2008 – 2015 has PCD 4 x 114,3
Mitsubishi i-MiEV from 2010 – 2015 has PCD 4 x 100
Mitsubishi Lancer EVO from 1992 – 1994 has PCD 4 x 114,3
Mitsubishi Lancer EVO from 1994 – 1995 has PCD 4 x 114,3
Mitsubishi Lancer EVO from 1995 – 1996 has PCD 4 x 114,3
Nissan Cube from 2010 – 2015 has PCD 4 x 114,3
Nissan Evalia from 2012 – 2015 has PCD 4 x 114,3
Nissan Kubistar from 2003 – 2015 has PCD 4 x 100
Nissan Laurel from 1985 – 1989 has PCD 4 x 114,3
Nissan Micra from 1993 – 2003 has PCD 4 x 100
Nissan Micra from 2010 – 2015 has PCD 4 x 100
Nissan Micra K12 from 2003 – 2010 has PCD 4 x 100
Nissan Note from 2006 – 2013 has PCD 4 x 100
Nissan Note from 2013 – 2015 has PCD 4 x 100
Nissan NV200 from 2010 – 2015 has PCD 4 x 114,3
Nissan Pixo from 2009 – 2015 has PCD 4 x 100
Nissan Sentra from 2000 – 2006 has PCD 4 x 114,3
Nissan Sentra from 2007 – 2015 has PCD 4 x 114,3
Nissan Sunny B11 from 1982 – 1986 has PCD 4 x 114,3
Nissan Tiida from 2007 – 2015 has PCD 4 x 114,3
Nissan Versa from 2007 – 2015 has PCD 4 x 114,3
Peugeot Partner Origin from 2008 – 2015 has PCD 4 x 108
Peugeot Partner Tepee from 2008 – 2015 has PCD 4 x 108
Cars with 5 bolts PCD:
Alfa Romeo 166 from 1998 – 2006 has PCD 5 x 108
Alfa Romeo GTV from 1982 – 1995 has PCD 5 x 108
Alfa Romeo 90 from 1987 – 1990 has PCD 5 x 98
Alfa Romeo 159 from 2005 – 2011 has PCD 5 x 110
Alfa Romeo 156 from 1997 – 2005 has PCD 5 x 98
Alfa Romeo GTV from 1996 – 2004 has PCD 5 x 98
Alfa Romeo Spider from 1995 – 2006 has PCD 5 x 98
Alfa Romeo 147 from 2001 – 2010 has PCD 5 x 98
Alfa Romeo Crosswagon Q4 from 2004 – 2007 has PCD 5 x 98
Alfa Romeo Brera from 2006 – 2010 has PCD 5 x 110
Alfa Romeo GT from 2004 – 2010 has PCD 5 x 98
Audi A6 from 2000 – 2015 has PCD 5 x 112
Audi TT from 1998 – 2006 has PCD 5 x 100
Audi TT from 2006 – 2015 has PCD 5 x 112
Audi TTS from 2008 – 2015 has PCD 5 x 112
Audi 100 Quattro from 1983 – 1990 has PCD 5 x 112
Audi 200 Quattro from 1983 – 1990 has PCD 5 x 112
Audi S2 from 1990 – 1996 has PCD 5 x 112
Audi 100 from 1990 – 1994 has PCD 5 x 112
Audi 200 from 1990 – 1994 has PCD 5 x 112
Audi S4 from 1991 – 2015 has PCD 5 x 112
Audi S6 from 1994 – 2015 has PCD 5 x 112
Audi V8 from 1989 – 1994 has PCD 5 x 112
Audi 80 Avant RS2 from 1994 – 1996 has PCD 5 x 130
Audi 100 from 1985 – 1990 has PCD 5 x 112
Audi 200 from 1984 – 1990 has PCD 5 x 112
Audi A2 from 2000 – 2005 has PCD 5 x 100
Audi A3 from 1996 – 2002 has PCD 5 x 100
Audi A3 from 2003 – 2012 has PCD 5 x 112
Audi A4 from 1994 – 2000 has PCD 5 x 112
Audi A4 from 2000 – 2004 has PCD 5 x 112
Audi A4 from 2004 – 2007 has PCD 5 x 112
Audi A4 from 2008 – 2015 has PCD 5 x 112
Audi A4 Allroad Quattro from 2009 – 2015 has PCD 5 x 112
Audi A5 from 2007 – 2015 has PCD 5 x 112
Audi A6 from 1994 – 1997 has PCD 5 x 112
Audi A6 from 1997 – 2004 has PCD 5 x 112
Audi A6 from 2004 – 2011 has PCD 5 x 112
Audi A8 from 1994 – 2002 has PCD 5 x 112
Audi A8 from 2002 – 2010 has PCD 5 x 112
Audi Allroad Quattro from 2000 – 2006 has PCD 5 x 112
Audi Allroad Quattro from 2006 – 2011 has PCD 5 x 112
Audi Q5 from 2008 – 2013 has PCD 5 x 112
Audi Q7 from 2006 – 2015 has PCD 5 x 130
Audi R8 from 2007 – 2015 has PCD 5 x 112
Audi RS4 from 2005 – 2015 has PCD 5 x 112
Audi RS6 from 2002 – 2004 has PCD 5 x 112
Audi RS6 from 2004 – 2015 has PCD 5 x 112
Audi S3 from 1999 – 2003 has PCD 5 x 100
Audi S3 from 2006 – 2015 has PCD 5 x 112
Audi S4 from 1999 – 2001 has PCD 5 x 112
Audi S4 from 2003 – 2008 has PCD 5 x 112
Audi S4 from 2009 – 2015 has PCD 5 x 112
Audi S5 from 2007 – 2015 has PCD 5 x 112
Audi S6 from 1999 – 2004 has PCD 5 x 112
Chevrolet Captiva from 2006 – 2015 has PCD 5 x 115
Chevrolet Cruze from 2009 – 2015 has PCD 5 x 105
Chevrolet Leganza from 1998 – 2004 has PCD 5 x 114,3
Peugeot 407 from 2004 – 2009 has PCD 5 x 108
Peugeot 4007 from 2007 – 2012 has PCD 5 x 114,3
Peugeot 605 from 1990 – 1999 has PCD 5 x 108
Peugeot 607 from 2000 – 2010 has PCD 5 x 108
Peugeot 806 from 1994 – 2002 has PCD 5 x 98
Peugeot 807 from 2002 – 2005 has PCD 5 x 98
Peugeot Boxer from 1996 – 2014 has PCD 5 x 118
Peugeot Expert from 1996 – 2006 has PCD 5 x 98
Peugeot Expert from 2007 – 2015 has PCD 5 x 108
Aston Martin DB9 from 2005 – 2007 has PCD 5 x 114,3
Aston Martin DBS from 2007 – 2012 has PCD 5 x 114,3
Aston Martin Volante from 2009 – 2012 has PCD 5 x 114,3
Aston Martin Rapide S from 2010 – 2012 has PCD 5 x 114,3
Aston Martin V12 Vantage from 2005 – 2015 has PCD 5 x 114,3
BMW 5 Serie from 1977 – 1981 has PCD 5 x 120
BMW 7 Serie from 1977 – 1986 has PCD 5 x 120
BMW 6 Serie from 1982 – 1990 has PCD 5 x 120
BMW M3 E30 from 1986 – 1990 has PCD 5 x 120
BMW 5 Serie from 1981 – 1988 has PCD 5 x 120
BMW M5 from 1985 – 1996 has PCD 5 x 120
BMW 2500 from 1968 – 1977 has PCD 5 x 120
BMW 2800 from 1968 – 1971 has PCD 5 x 120
BMW 3,0 from 1971 – 1974 has PCD 5 x 120
BMW 7 Serie from 1986 – 1994 has PCD 5 x 120
BMW M5 from 1989 – 1997 has PCD 5 x 120
BMW M3 from 1992 – 1998 has PCD 5 x 120
BMW Z3 from 1996 – 2002 has PCD 5 x 120
BMW Z3 M Roadster from 1998 – 2002 has PCD 5 x 120
BMW 1 Serie from 2004 – 2015 has PCD 5 x 120
BMW 3 Serie E36 from 1991 – 2000 has PCD 5 x 120
BMW 3 Serie E46 from 1998 – 2005 has PCD 5 x 120
BMW 3 Serie E90 from 2005 – 2015 has PCD 5 x 120
BMW 5 Serie E34 from 1988 – 1995 has PCD 5 x 120
BMW 5 Serie E39 from 1996 – 2003 has PCD 5 x 120
BMW 5 Serie E60 from 2003 – 2015 has PCD 5 x 120
BMW 6 Serie E63 from 2003 – 2015 has PCD 5 x 120
BMW 6 Serie E64 from 2003 – 2015 has PCD 5 x 120
BMW 7 Serie E38 from 1995 – 2001 has PCD 5 x 120
BMW 7 Serie E65 from 2002 – 2015 has PCD 5 x 120
BMW 850 from 1989 – 1998 has PCD 5 x 120
BMW M3 E46 from 1998 – 2005 has PCD 5 x 120
BMW M3 E90 from 2008 – 2015 has PCD 5 x 120
BMW M5 E39 from 1997 – 2005 has PCD 5 x 120
BMW M5 E60 from 2005 – 2015 has PCD 5 x 120
BMW 3 Serie E91 from 2005 – 2015 has PCD 5 x 120
BMW 3 Serie E92 from 2005 – 2015 has PCD 5 x 120
BMW 3 Serie E93 from 2005 – 2015 has PCD 5 x 120
BMW 5 Serie E61 from 2003 – 2015 has PCD 5 x 120
BMW M3 E91 from 2008 – 2015 has PCD 5 x 120
BMW M3 E92 from 2008 – 2015 has PCD 5 x 120
BMW M3 E93 from 2008 – 2015 has PCD 5 x 120
BMW 7 Serie E66 from 2002 – 2015 has PCD 5 x 120
BMW M6 from 2006 – 2015 has PCD 5 x 120
BMW X3 from 2004 – 2015 has PCD 5 x 120
BMW X5 from 2000 – 2007 has PCD 5 x 120
BMW X5 from 2007 – 2015 has PCD 5 x 120
BMW X6 from 2008 – 2015 has PCD 5 x 120
BMW Z4 from 2002 – 2009 has PCD 5 x 120
BMW Z4 from 2009 – 2015 has PCD 5 x 120
Chrysler Le Baron from 1977 – 1995 has PCD 5 x 100
Chrysler Saratoga from 1989 – 1995 has PCD 5 x 100
Chrysler Vision from 1993 – 1997 has PCD 5 x 114,3
Chrysler Grand Voyager from 1991 – 1995 has PCD 5 x 114,3
Chrysler Voyager from 1988 – 1990 has PCD 5 x 100
Chrysler Jeep Cherokee from 1989 – 1998 has PCD 5 x 114,3
Chrysler Jeep Wrangler from 1987 – 1998 has PCD 5 x 114,3
Chrysler Grand Cherokee from 1992 – 1998 has PCD 5 x 114,3
Chrysler 300C from 2004 – 2015 has PCD 5 x 115
Chrysler 300M from 1998 – 2004 has PCD 5 x 114,3
Chrysler Grand Voyager from 2008 – 2015 has PCD 5 x 127
Chrysler Grand Voyager from 2001 – 2008 has PCD 5 x 114,3
Chrysler Neon from 1991 – 2005 has PCD 5 x 100
Chrysler PT Cruiser from 2000 – 2010 has PCD 5 x 100
Chrysler Sebring from 2001 – 2007 has PCD 5 x 100
Chrysler Sebring from 2007 – 2015 has PCD 5 x 114,3
Chrysler Stratus from 1995 – 2001 has PCD 5 x 100
Chrysler Voyager from 1996 – 2001 has PCD 5 x 114,3
Chrysler Voyager from 2001 – 2008 has PCD 5 x 114,3
Citroen C6 from 2005 – 2012 has PCD 5 x 108
Citroen C8 from 2002 – 2014 has PCD 5 x 98
Citroen XM from 1989 – 2000 has PCD 5 x 108
Citroen Evasion from 1994 – 2002 has PCD 5 x 98
Citroen CX from 1974 – 1991 has PCD 5 x 98
Citroen Jumper from 1981 – 1993 has PCD 5 x 118
Citroen Jumpy from 1995 – 2006 has PCD 5 x 108
Daewoo Leganza from 1997 – 2002 has PCD 5 x 114,3
Daewoo Aranos from 1990 – 1999 has PCD 5 x 114,3
Dodge Avenger from 2007 – 2014 has PCD 5 x 114,3
Dodge Caliber from 2006 – 2012 has PCD 5 x 114,3
Dodge Journey from 2008 – 2015 has PCD 5 x 127
Dodge Nitro from 2007 – 2012 has PCD 5 x 114,3
Ferrari 512 TR from 1984 – 1996 has PCD 5 x 108
Ferrari 348 GTB from 1989 – 1995 has PCD 5 x 108
Ferrari 348 GTS from 1989 – 1995 has PCD 5 x 108
Ferrari 348 Spider from 1989 – 1995 has PCD 5 x 108
Ferrari F355 Berlinetta from 1994 – 1999 has PCD 5 x 108
Ferrari F355 GTS from 1994 – 1999 has PCD 5 x 108
Ferrari F355 Spider from 1994 – 1999 has PCD 5 x 108
Ferrari F512 M from 1994 – 1996 has PCD 5 x 108
Ferrari 550 Maranello from 1996 – 1999 has PCD 5 x 108
Ferrari 355 F1 Berlinetta from 1997 – 1999 has PCD 5 x 108
Ferrari 355 F1 GTS from 1997 – 1999 has PCD 5 x 108
Ferrari 355 F1 Spider from 1997 – 1999 has PCD 5 x 108
Ferrari 360 from 1999 – 2005 has PCD 5 x 108
Ferrari 360 Modena from 1999 – 2005 has PCD 5 x 108
Ferrari 360 Spider from 1999 – 2005 has PCD 5 x 108
Ferrari 550 Barchetta Pininfarina from 2000 – 2000 has PCD 5 x 108
Ferrari 575 from 2002 – 2006 has PCD 5 x 108
Ferrari 575 M Maranello from 2002 – 2006 has PCD 5 x 108
Ferrari 612 Scaglietti from 2004 – 2011 has PCD 5 x 114,3
Ferrari F430 from 2005 – 2009 has PCD 5 x 108
Ferrari 458 Italia from 2009 – 2015 has PCD 5 x 108
Fiat Ducato from 1994 – 2002 has PCD 5 x 118
Fiat Ulysse from 1994 – 2002 has PCD 5 x 98
Fiat Croma from 2005 – 2010 has PCD 5 x 110
Fiat Ducato from 2006 – 2010 has PCD 5 x 118
Fiat Scudo from 1996 – 2006 has PCD 5 x 98
Fiat Scudo from 2007 – 2015 has PCD 5 x 108
Fiat Ulysse from 2002 – 2014 has PCD 5 x 98
Ford Granada from 1972 – 1994 has PCD 5 x 112
Ford Taurus from 1986 – 2007 has PCD 5 x 108
Ford Windstar from 1995 – 2007 has PCD 5 x 108
Ford Probe from 1993 – 1997 has PCD 5 x 114,3
Ford Scorpio 4×4 from 1985 – 1999 has PCD 5 x 112
Ford Scorpio from 1984 – 1995 has PCD 5 x 112
Ford Focus II from 2004 – 2010 has PCD 5 x 108
Ford Focus C-Max from 2003 – 2010 has PCD 5 x 108
Ford Focus RS from 2009 – 2010 has PCD 5 x 108
Ford Galaxy from 1995 – 2006 has PCD 5 x 112
Ford Galaxy from 2006 – 2015 has PCD 5 x 108
Ford Kuga from 2008 – 2015 has PCD 5 x 108
Ford Mondeo from 2001 – 2007 has PCD 5 x 108
Ford Mondeo from 2007 – 2014 has PCD 5 x 108
Ford Mustang GT from 2005 – 2014 has PCD 5 x 114,3
Ford S-Max from 2006 – 2015 has PCD 5 x 108
Alfa Romeo 8c from 2007 – 2010 has PCD 5 x 110
Alfa Romeo Giulietta II from 2010 – 2015 has PCD 5 x 110
Alfa Romeo 8C Competizione from 2007 – 2010 has PCD 5 x 110
Alfa Romeo 156 Sportwagon from 2000 – 2007 has PCD 5 x 98
Audi A7 from 2010 – 2015 has PCD 5 x 112
Chevrolet Corvette C6 from 2005 – 2013 has PCD 5 x 120,65
Chevrolet Corvette C7 from 2014 – 2015 has PCD 5 x 120,65
Chevrolet Camaro from 2008 – 2009 has PCD 5 x 120
Chevrolet Camaro from 2010 – 2015 has PCD 5 x 120
Chevrolet HHR from 2005 – 2011 has PCD 5 x 110
Chevrolet Impala from 2000 – 2005 has PCD 5 x 115
Chevrolet Impala from 2006 – 2014 has PCD 5 x 115
Chevrolet Impala from 2014 – 2015 has PCD 5 x 120
Chevrolet Lumina from 1990 – 1994 has PCD 5 x 115
Chevrolet Lumina from 1995 – 2001 has PCD 5 x 115
Honda CR-V from 1997 – 2001 has PCD 5 x 114,3
Honda HR-V from 1999 – 2006 has PCD 5 x 114,3
Honda Integra from 1998 – 2003 has PCD 5 x 114,3
Honda Legend V6 from 1990 – 1995 has PCD 5 x 114,3
Honda Prelude VTi from 1997 – 2002 has PCD 5 x 114,3
Honda Prelude VTEC from 1997 – 2002 has PCD 5 x 114,3
Honda Legend from 1991 – 1995 has PCD 5 x 114,3
Honda Accord from 2003 – 2008 has PCD 5 x 114,3
Honda Accord from 2008 – 2015 has PCD 5 x 114,3
Honda Civic from 2006 – 2012 has PCD 5 x 114,3
Honda CR-V from 2000 – 2006 has PCD 5 x 114,3
Honda CR-V from 2006 – 2012 has PCD 5 x 114,3
Honda FR-V from 2004 – 2009 has PCD 5 x 114,3
Honda HR-V from 1999 – 2006 has PCD 5 x 114,3
Honda Legend from 2007 – 2014 has PCD 5 x 120
Honda Stream from 2001 – 2014 has PCD 5 x 114,3
Hyundai H100 from 2004 – 2015 has PCD 5 x 114,3
Hyundai Starex from 1997 – 2007 has PCD 5 x 114,3
Hyundai i30 from 2007 – 2012 has PCD 5 x 114,3
Hyundai ix35 from 2010 – 2015 has PCD 5 x 114,3
Hyundai Santa Fe from 2001 – 2006 has PCD 5 x 114,3
Hyundai Santa Fe from 2006 – 2015 has PCD 5 x 114,3
Hyundai Trajet from 1999 – 2008 has PCD 5 x 114,3
Hyundai Tucson from 2004 – 2009 has PCD 5 x 114,3
Jaguar XJ from 1984 – 1994 has PCD 5 x 120,65
Jaguar XJ from 1994 – 1997 has PCD 5 x 120,65
Jaguar XJ40 from 1986 – 1994 has PCD 5 x 120,65
Jaguar XJ81 from 1993 – 1994 has PCD 5 x 120,65
Jaguar XJS from 1984 – 1994 has PCD 5 x 120,65
Jaguar S-type from 1999 – 2007 has PCD 5 x 108
Jaguar XF Supercharged from 2009 – 2015 has PCD 5 x 108
Jaguar XFR from 2009 – 2015 has PCD 5 x 108
Jaguar XF Sportbrake from 2012 – 2015 has PCD 5 x 108
Jaguar XFR-S from 2013 – 2015 has PCD 5 x 108
Jaguar XJ X308 from 1997 – 2009 has PCD 5 x 120,65
Jaguar XJ X350 from 2004 – 2007 has PCD 5 x 120,65
Jaguar XJ X358 from 2007 – 2009 has PCD 5 x 120,65
Jaguar XJ X351 from 2009 – 2015 has PCD 5 x 120,65
Jaguar XK8 from 1998 – 2006 has PCD 5 X 120,65
Jaguar X-Type from 2001 – 2009 has PCD 5 x 108
Kia Motors Sportage from 1996 – 2002 has PCD 5 x 139,7
Kia Motors Carens from 2006 – 2013 has PCD 5 x 114,3
Kia Motors Ceed from 2006 – 2015 has PCD 5 x 114,3
Kia Motors Magentis from 2006 – 2015 has PCD 5 x 114,3
Kia Motors Opirus from 2003 – 2007 has PCD 5 x 114,3
Kia Motors Pro-Ceed from 2007 – 2013 has PCD 5 x 114,3
Kia Motors Soul from 2009 – 2015 has PCD 5 x 114,3
Kia Motors Sportage from 2004 – 2015 has PCD 5 x 114,3
Kia Motors Venga from 2010 – 2015 has PCD 5 x 114,3
Lexus LS400 from 1990 – 1994 has PCD 5 X 114,3
Lexus GS300 from 1996 – 2005 has PCD 5 x 114,3
Lexus GS430 from 2005 – 2007 has PCD 5 X 114,3
Lexus GS450h from 2006 – 2011 has PCD 5 x 114,3
Lexus IS from 2005 – 2008 has PCD 5 x 114,3
Lexus IS200 from 1999 – 2006 has PCD 5 x 114,3
Lexus IS300 from 2001 – 2006 has PCD 5 x 14,3
Lexus IS-F from 2008 – 2010 has PCD 5 x 114,3
Lexus LS430 from 2000 – 2007 has PCD 5 x 114,3
Lexus LS600h from 2006 – 2009 has PCD 5 x 120
Lexus RX300 from 1999 – 2003 has PCD 5 x 114,3
Lexus RX350 from 2003 – 2008 has PCD 5 x 114,3
Lexus RX400h from 2005 – 2008 has PCD 5 x 114,3
Lexus RX450h from 2008 – 2012 has PCD 5 x 114,3
Maserati Quattroporte V from 2003 – 2012 has PCD 5 x 114,3
Maserati Quattroporte VI from 2013 – 2015 has PCD 5 x 114,3
Maserati Gran Turismo from 2007 – 2015 has PCD 5 x 108
Maserati Gran Turismo S from 2008 – 2012 has PCD 5 x 108
Maserati Coupe from 2001 – 2007 has PCD 5 x 108
Maserati Coupe GranSport from 2004 – 2007 has PCD 5 x 108
Maserati Coupe from 2008 – 2012 has PCD 5 x 108
Maserati 4200 GT from 2001 – 2007 has PCD 5 x 108
Maserati 4200 GT from 2008 – 2012 has PCD 5 x 108
Maserati Spyder from 2001 – 2007 has PCD 5 x 108
Maserati Spyder from 2008 – 2012 has PCD 5 x 108
Maserati 3200 GT from 1998 – 2002 has PCD 5 x 108
Mazda 323 GT-R from 1993 – 1994 has PCD 5 x 114,3
Mazda 323 V6 from 1994 – 2000 has PCD 5 x 114,3
Mazda 323 from 1980 – 1985 has PCD 5 x 114,3
Mazda Xedos 6 from 1992 – 1999 has PCD 5 x 114,3
Mazda RX-7 Turbo from 1985 – 1988 has PCD 5 x 114,3
Mazda 626 from 1988 – 1992 has PCD 5 x 114,3
Mazda 626 from 1992 – 1997 has PCD 5 x 114,3
Mazda MX-6 from 1991 – 1997 has PCD 5 x 114,3
Mazda 626 from 1997 – 2002 has PCD 5 x 114,3
Mazda 929 from 1987 – 1991 has PCD 5 x 114,3
Mazda 3 from 2003 – 2009 has PCD 5 x 114,3
Mazda 3 MPS from 2003 – 2008 has PCD 5 x 114,3
Mazda 5 from 2005 – 2010 has PCD 5 x 114,3
Mazda 6 from 2002 – 2008 has PCD 5 x 114,3
Mazda 6 from 2008 – 2012 has PCD 5 x 114,3
Mazda 6 MPS from 2002 – 2008 has PCD 5 x 114,3
Mazda CX-7 from 2006 – 2012 has PCD 5 x 114,3
Mazda CX-9 from 2006 – 2015 has PCD 5 x 114,3
Mazda MPV from 1999 – 2006 has PCD 5 x 114,3
Mazda MX-5 from 2005 – 2015 has PCD 5 x 114,3
Mazda Premacy from 1999 – 2006 has PCD 5 x 114,3
Mazda RX-8 from 2003 – 2012 has PCD 5 x 114,3
Mazda Tribute from 2000 – 2006 has PCD 5 x 114,3
Mercedes-Benz M-klasse from 1997 – 2011 has PCD 5 x 112
Mercedes-Benz S-klasse from 1999 – 2015 has PCD 5 x 112
Mercedes-Benz C-klasse C202 from 1993 – 2000 has PCD 5 x 112
Mercedes-Benz CLK C208 from 1997 – 2003 has PCD 5 x 112
Mercedes-Benz SL R107 from 1972 – 1989 has PCD 5 x 112
Mercedes-Benz SL R129 from 1989 – 1995 has PCD 5 x 112
Mercedes-Benz SLK R170 from 1997 – 2004 has PCD 5 x 112
Mercedes-Benz S-klasse W116 from 1972 – 1980 has PCD 5 x 112
Mercedes-Benz E-klasse W123 from 1975 – 1984 has PCD 5 x 112
Mercedes-Benz E-klasse 500E W123 from 1990 – 1994 has PCD 5 x 112
Mercedes-Benz E-klasse W124 from 1985 – 1990 has PCD 5 x 112
Mercedes-Benz S-klasse W126 from 1979 – 1991 has PCD 5 x 112
Mercedes-Benz S-klasse W126 from 1991 – 1999 has PCD 5 x 112
Mercedes-Benz A-klasse W168 from 1997 – 2015 has PCD 5 x 112
Mercedes-Benz 190 W201 from 1983 – 1993 has PCD 5 x 112
Mercedes-Benz 190 W201E from 1983 – 1993 has PCD 5 x 112
Mercedes-Benz E-klasse W210 from 1995 – 2003 has PCD 5 x 112
Mercedes-Benz V-klasse W638 from 1996 – 2003 has PCD 5 x 112
Mitsubishi Starion from 1986 – 1991 has PCD 5 x 114,3
Mitsubishi Eclipse D20 from 1992 – 1995 has PCD 5 x 114,3
Mitsubishi Eclipse D22A from 1992 – 1995 has PCD 5 x 114,3
Mitsubishi Eclipse D30 from 1992 – 1995 has PCD 5 x 114,3
Mitsubishi Galant from 2004 – 2012 has PCD 5 x 114,3
Mitsubishi Sigma F10 from 1990 – 1996 has PCD 5 x 114,3
Mitsubishi Sigma F07W from 1990 – 1996 has PCD 5 x 114,3
Mitsubishi L300 from P00W has PCD 5 x 114,3
Mitsubishi Space Gear PA0 from 1994 – 2006 has PCD 5 x 114,3
Mitsubishi 3000GT Z10 from 1992 – 2000 has PCD 5 x 114,3
Nissan Maxima from 1988 – 1995 has PCD 5 x 114,3
Nissan 300 ZX from 1984 – 1991 has PCD 5 x 114,3
Nissan 200 SX S14 from 1994 – 1998 has PCD 5 x 114,3
Nissan 350Z from 2002 – 2009 has PCD 5 x 114,3
Nissan 370Z from 2009 – 2015 has PCD 5 x 114,3
Nissan Maxima from 2004 – 2008 has PCD 5 x 114,3
Nissan Maxima from 1995 – 2004 has PCD 5 x 114,3
Nissan Serena from 1993 – 2000 has PCD 5 x 114,3
Nissan Skyline R32 from 1989 – 1993 has PCD 5 x 114,3
Nissan Skyline R33 from 1993 – 1998 has PCD 5 x 114,3
Nissan Skyline R34 from 1998 – 2002 has PCD 5 x 114,3
Nissan Almera Tino V10 from 2000 – 2006 has PCD 5 x 114,3
Nissan Primera P12 from 2002 – 2006 has PCD 5 x 114,3
Opel Ampera from 2012 – 2015 has PCD 5 x 115
Opel Antara from 2006 – 2015 has PCD 5 x 115
Opel Astra G from 1998 – 2004 has PCD 5 x 110
Opel Astra H from 2004 – 2009 has PCD 5 x 110
Opel Astra J 1,3D from 2009 – 2015 has PCD 5 x 105
Opel Astra J 1,4 from 2009 – 2015 has PCD 5 x 105
Opel Astra J 1,6 from 2009 – 2015 has PCD 5 x 105
Opel Astra J 1,6T from 2009 – 2015 has PCD 5 x 115
Opel Astra J 1,7D from 2009 – 2015 has PCD 5 x 115
Opel Astra J 2,0D from 2009 – 2015 has PCD 5 x 115
Opel Calibra A from 1992 – 1997 has PCD 5 x 110
Opel Cascada from 2013 – 2015 has PCD 5 x 115
Opel Combo from 2011 – 2015 has PCD 5 x 98
Opel Combo from 2001 – 2010 has PCD 5 x 110
Opel Corsa C from 2000 – 2006 has PCD 5 x 110
Opel Corsa D from 2006 – 2015 has PCD 5 x 110
Opel Corsa D OPC from 2007 – 2015 has PCD 5 x 110
Opel GT from 2006 – 2015 has PCD 5 x 110
Opel Insignia from 2008 – 2015 has PCD 5 x 120
Opel Meriva from 2010 – 2015 has PCD 5 x 110
Opel Meriva from 2003 – 2010 has PCD 5 x 110
Opel Meriva OPC from 2006 – 2010 has PCD 5 x 110
Opel Mokka from 2012 – 2015 has PCD 5 x 105
Opel Movano from 2000 – 2010 has PCD 5 x 130
Opel Monavo from 2010 – 2015 has PCD 5 x 130
Opel Omega A from 1986 – 1994 has PCD 5 x 110
Opel Omega B from 1994 – 2003 has PCD 5 x 110
Opel Signum from 2003 – 2008 has PCD 5 x 110
Opel Sintra from 1997 – 1999 has PCD 5 x 115
Opel Vectra A from 1993 – 1995 has PCD 5 x 110
Opel Vectra B from 1995 – 2002 has PCD 5 x 110
Opel Vectra C from 2002 – 2008 has PCD 5 x 110
Opel Vectra C OPC from 2005 – 2008 has PCD 5 x 110
Opel Vivaro from 2001 – 2014 has PCD 5 x 118
Opel Vivaro from 2014 – 2015 has PCD 5 x 114,3
Opel Zafira from 1999 – 2005 has PCD 5 x 110
Opel Zafira from 2005 – 2011 has PCD 5 x 110
Opel Zafira OPC from 2006 – 2011 has PCD 5 x 110
Opel Zafira Tourer from 2012 – 2015 has PCD 5 x115
Opel Senator from 1982 – 1989 has PCD 5 x 110
Opel Senator from 1982 – 1989 has PCD 5 x 110
Peugeot 308 from 2013 – 2015 has PCD 5 x 108
Peugeot 308 SW from 2014 – 2015 has PCD 5 x 108
Peugeot 4008 from 2012 – 2015 has PCD 5 x 114,3
Peugeot 508 from 2011 – 2015 has PCD 5 X 108
Peugeot RCZ from 2010 – 2014 has PCD 5 x 108
Peugeot RCZ-R from 2014 – 2015 has PCD 5 x 108
Porsche 914 from 1970 – 1972 has PCD 5 x 130
Porsche 924S from 1986 – 1988 has PCD 5 x 130
Porsche 912 from 1965 – 1969 has PCD 5 x 130
Porsche 928 S4 from 1981 – 1990 has PCD 5 x 130
Porsche 924 Turbo from 1976 – 1978 has PCD 5 x 130
Porsche 944 Turbo from 1986 – 1987 has PCD 5 x 130
Porsche 959 from 1987 – 1988 has PCD 5 x 130
Porsche 964 from 1989 -1994 has PCD 5 x 130
Porsche 964 Turbo from 1991 – 1994 has PCD 5 x 130
Porsche 968 from 1992 – 1995 has PCD 5 x 130
Porsche 911 from 1989 – 1995 has PCD 5 x 130
Porsche 911 Turbo S from 2013 – 2015 has PCD 5 x 130
Porsche 991 from 1995 – 1998 has PCD 5 x 130
Porsche 991 Turbo from 1995 – 1998 has PCD 5 x 130
Porsche 991 Turbo from 1999 – 2005 has PCD 5 x 130
Porsche 991 Carrera from 2004 – 2012 has PCD 5 x 130
Porsche 991 Carrera 4 from 2004 – 2012 has PCD 5 x 130
Porsche 911 GT2 from 2007 – 2012 has PCD 5 x 130
Porsche 911 GT2 RS from 2010 – 2012 has PCD 5 x 130
Porsche 911 GT3 from 2006 – 2009 has PCD 5 x 130
Porsche 911 GT3 from 2009 – 2012 has PCD 5 x 130
Porsche 911 GT3 RS from 2009 – 2012 has PCD 5 x 130
Porsche 911 GTS from 2011 – 2012 has PCD 5 x 130
Porsche 911 Turbo from 2006 – 2010 has PCD 5 x 130
Porsche 911 Turbo from 2010 – 2012 has PCD 5 x 130
Porsche 928 from 1978 – 1995 has PCD 5 x 130
Porsche 944 from 1987 – 1991 has PCD 5 x 130
Porsche Boxter from 1996 – 2012 has PCD 5 x 130
Porsche Boxter from 2012 – 2015 has PCD 5 x 130
Porsche Cayenne from 2002 – 2010 has PCD 5 x 130
Porsche Cayenne from 2010 – 2015 has PCD 5 x 130
Porsche Cayman from 2004 – 2012 has PCD 5 x 130
Porsche Cayman from 2012 – 2015 has PCD 5 x 130
Porsche Macan from 2014 – 2015 has PCD 5 x 112
Porsche Panamera from 2009 – 2015 has PCD 5 x 130
Renault Safromne V6 from 1994 – 2000 has PCD 5 x 108
Renault 21 from 1986 – 1995 has PCD 5 x 108
Renault Avantime from 2001 – 2003 has PCD 5 x 108
Renault Clio Sport from 2006 – 2013 has PCD 5 x 108
Renault Espace from 1991 – 1996 has PCD 5 x 108
Renault Espace from 1997 – 2002 has PCD 5 x 108
Renault Espace from 2002 – 2015 has PCD 5 x 108
Renault Fluence from 2010 – 2015 has PCD 5 x 114,3
Renault Grand Scenic from 2009 – 2015 has PCD 5 x 114,3
Renault Kadjar from 2015 – 2015 has PCD 5 x 114,3
Renault Kangoo from 2008 – 2015 has PCD 5 x 108
Renault Koleos from 2008 – 2015 has PCD 5 x 114,3
Renault Laguna from 1994 – 2000 has PCD 5 x 108
Renault Laguna from 2000 – 2007 has PCD 5 x 108
Renault Laguna from 2007 – 2015 has PCD 5 x 114,3
Renault Laguna Coupe from 2009 – 2015 has PCD 5 x 114,3
Renault Master from 2000 – 2010 has PCD 5 x 130
Renault Master FWD from 2010 – 2015 has PCD 5 x 130
Renault Master RWD from 2010 – 2015 has PCD 5 x 130
Renault Megane from 2008 – 2015 has PCD 5 x 114,3
Renault Megane 2,0 dCi from 2005 – 2008 has PCD 5 x 108
Renault Megane RS from 2010 – 2015 has PCD 5 x 114,3
Renault Megane Scenic from 2009 – 2015 has PCD 5 x 114,3
Renault Megane Scenic RX-4 from 2007 – 2009 has PCD 5 x 108
Renault Trafic from 2001 – 2014 has PCD 5 x 118
Renault Trafic from 2014 – 2015 has PCD 5 x 114,3
Renault VelSatis from 2001 – 2009 has PCD 5 x 108
Rover Discovery from 1998 – 2004 has PCD 5 x 165,1
Rover Freelander from 1997 – 2006 has PCD 5 x 114,3
Rover Freelander from 2007 – 2012 has PCD 5 x 108
Rover 75 from 1999 – 2006 has PCD 5 x 100
Saab 9-2X from 2004 – 2006 has PCD 5 x 100
Saab 9-3 from 1998 – 2002 has PCD 5 x 110
Saab 9-3 from 2003 – 2012 has PCD 5 x 110
Saab 9-3X from 2009 – 2012 has PCD 5 x 110
Saab 9-5 from 1997 – 2005 has PCD 5 x 110
Saab 9-5 from 2005 – 2010 has PCD 5 x 110
Saab 9-5 from 2010 – 2012 has PCD 5 x 120
Saab 900 from 1994 – 1998 has PCD 5 x 100
Seat Alhambra from 1996 – 2001 has PCD 5 x 112
Seat Alhambra from 2001 – 2010 has PCD 5 x 112
Seat Alhambra from 2010 – 2015 has PCD 5 x 112
Seat Altea from 2004 – 2015 has PCD 5 x 112
Seat Altea Freetrack from 2007 – 2015 has PCD 5 x 112
Seat Cordoba from 2002 – 2009 has PCD 5 x 100
Seat Ibiza from 2002 – 2006 has PCD 5 x 100
Seat Ibiza from 2006 – 2008 has PCD 5 x 100
Seat Ibiza from 2008 – 2015 has PCD 5 x 100
Seat Ibiza ST from 2010 – 2015 has PCD 5 x 100
Seat Leon from 1999 – 2005 has PCD 5 x 100
Seat Leon from 2005 – 2010 has PCD 5 x 112
Seat Leon from 2010 – 2012 has PCD 5 x 112
Seat Leon from 2012 – 2015 has PCD 5 x 112
Seat Leon Cupra from 2014 – 2015 has PCD 5 x 112
Seat Leon Cupra R from 2002 – 2006 has PCD 5 x 100
Seat Leon Cupra ST from 2015 – 2015 has PCD 5 x 112
Seat Toledo from 1998 – 2004 has PCD 5 x 100
Seat Toledo from 2004 – 2012 has PCD 5 x 112
Seat Toledo from 2012 – 2015 has PCD 5 x 100
Skoda Fabia from 2000 – 2007 has PCD 5 x 100
Skoda Fabia from 2007 – 2014 has PCD 5 x 100
Skoda Fabia from 2014 – 2015 has PCD 5 x 100
Skoda Fabia Scout from 2009 – 2014 has PCD 5 x 100
Skoda Octavia from 1997 – 2005 has PCD 5 x 100
Skoda Octavia from 2005 – 2013 has PCD 5 x 112
Skoda Octavia from 2013 – 2015 has PCD 5 x 112
Skoda Octavia Scout from 2007 – 2009 has PCD 5 x 112
Skoda Praktik from 2003 – 2015 has PCD 5 x 100
Skoda Rapid from 2013 – 2015 has PCD 5 x 100
Skoda Roomster from 2006 – 2015 has PCD 5 x 100
Skoda Roomster Scout from 2007 – 2015 has PCD 5 x 100
Skoda Superb from 2008 – 2015 has PCD 5 x 112
Skoda Yeti from 2009 – 2015 has PCD 5 x 112
Ssang Yong Actyon from 2006 2015 has PCD 5 x 130
Ssang Yong Korando from 2010 – 2015 has PCD 5 x 112
Ssang Yong Kyron from 2006 – 2015 has PCD 5 x 130
Ssang Yong Rexton from 2006 – 2015 has PCD 5 x 130
Ssang Yong Rodius from 2005 – 2015 has PCD 5 x 130
Suzuki Grand Vitara from 1998 – 2005 has PCD 5 x 139,7
Suzuki Grand Vitara from 2005 – 2015 has PCD 5 x 114,3
Suzuki Jimny from 1998 – 2015 has PCD 5 x 139,7
Suzuki Kizashi from 2009 – 2015 has PCD 5 x 114,3
Suzuki Swift Sport from 2006 – 2010 has PCD 5 x 114,3
Suzuki Swift Sport from 2011 – 2015 has PCD 5 x 114,3
Suzuki SX4 from 2006 – 2015 has PCD 5 x 114,3
Suzuki SX4 Cross from 2013 – 2015 has PCD 5 x 114,3
Suzuki Vitara from 2001 – 2006 has PCD 5 x 139,7
Suzuki XL7 from 2006 – 2009 has PCD 5 x 139,7
Subaru B9 Tribeca from 2005 – 2014 has PCD 5 x 114,3
Subaru BRZ from 2012 – 2015 has PCD 5 x 100
Subaru Forester from 1996 – 2002 has PCD 5 x 100
Subaru Forester from 2003 – 2008 has PCD 5 x 100
Subaru Forester from 2008 – 2013 has PCD 5 x 100
Subaru Forester from 2013 – 2015 has PCD 5 x 100
Subaru Impreza from 1993 – 2000 has PCD 5 x 100
Subaru Impreza from 2001 – 2007 has PCD 5 x 100
Subaru Impreza from 2007 – 2011 has PCD 5 x 100
Subaru Impreza from 2011 – 2015 has PCD 5 x 100
Subaru Impreza WRX STi from 2000 – 2005 has PCD 5 x 100
Subaru Impreza WRX STi from 2005 – 2007 has PCD 5 x 114,3
Subaru Impreza WRX STi from 2007 – 2010 has PCD 5 x 114,3
Subaru Legacy from 1989 – 2003 has PCD 5 x 100
Subaru Legacy from 2003 – 2009 has PCD 5 x 100
Subaru Legacy from 2009 – 2015 has PCD 5 x 100
Subaru Outback from 1998 – 2003 has PCD 5 x 100
Subaru Outback from 2004 – 2009 has PCD 5 x 100
Subaru Outback from 2009 – 2015 has PCD 5 x 100
Subaru Trezia from 2010 – 2015 has PCD 5 x 100
Subaru WRX STi from 2013 – 2015 has PCD 5 x 114,3
Subaru XV from 2012 – 2015 has PCD 5 x 100
Tesla Model S from 2012 – 2015 has PCD 5 x 120
Tesla Roadster from 2009 – 2015 has PCD 5 x 110
Toyota Carina from 1984 – 1988 has PCD 5 x 100
Toyota Celica from 1990 – 1994 has PCD 5 x 100
Toyota Auris from 2007 – 2012 has PCD 5 x 114,3
Toyota Auris from 2013 – 2015 has PCD 5 x 114,3
Toyota Avensis from 1998 – 2003 has PCD 5 x 100
Toyota Avensis from 2003 – 2008 has PCD 5 x 100
Toyota Avensis 2,2 Diesel from 2005 – 2008 has PCD 5 x 114,3
Toyota Avensis from 2008 – 2015 has PCD 5 x 114,3
Toyota Avensis Verso from 2001 – 2005 has PCD 5 x 114,3
Toyota Camry from 1992 – 2001 has PCD 5 x 114,3
Toyota Camry from 2001 – 2011 has PCD 5 x 114,3
Toyota Carina from 1988 – 1992 has PCD 5 x 100
Toyota Carina from 1992 – 1997 has PCD 5 x 100
Toyota Celica from 1994 – 1999 has PCD 5 x 100
Toyota Celica from 1999 – 2007 has PCD 5 x 100
Toyota Corolla from 2007 – 2015 has PCD 5 x 114,3
Toyota Corolla Verso from 2004 -2009 has PCD 5 x 114,3
Toyota GT 86 from 2012 – 2015 has PCD 5 x 100
Toyota Hi-Ace 2WD from 1989 – 1995 has PCD 5 x 114,3
Toyota Hi-Lux 2WD from 1986 – 2005 has PCD 5 x 114,3
Toyota Hi-Lux 2WD from 2006 – 2015 has PCD 5 x 114,3
Toyota Highlander from 2008 – 2015 has PCD 5 x 114,3
Toyota Landcruiser J100 from 1998 – 2007 has PCD 5 x 150
Toyota Landcruiser J20 V8 from 2008 – 2015 has PCD 5 x 150
Toyota Picnic from 1996 – 2001 has PCD 5 x 114,3
Toyota Picnic from 2001 – 2009 has PCD 5 x 114,3
Toyota Previa from 1990 – 2000 has PCD 5 x 114,3
Toyota Previa from 2000 – 2006 has PCD 5 x 114,3
Toyota MR2 from 1989 – 1999 has PCD 5 x 114,3
Toyota Previa from 2006 – 2015 has PCD 5 x 114,3
Toyota Prius from 2004 – 2009 has PCD 5 x 100
Toyota Prius from 2010 – 2015 has PCD 5 x 100
Toyota Prius Wagon from 2012 – 2015 has PCD 5 x 114,3
Toyota Rav4 from 1995 – 2000 has PCD 5 x 114,3
Toyota Rav4 from 2001 – 2005 has PCD 5 x 114,3
Toyota Rav4 from 2006 – 2015 has PCD 5 x 114,3
Toyota Sequoia from 2008 – 2015 has PCD 5 x 150
Toyota Supra MK3 from 1986 – 1993 has PCD 5 x 114,3
Toyota Supra MK4 from 1992 – 2002 has PCD 5 x 114,3
Toyota Tundra from 2008 – 2015 has PCD 5 x 150
Toyota Urban Cruiser from 2009 – 2015 has PCD 5 x 100
Toyota Verso from 2009 – 2015 has PCD 5 x 114,3
Toyota Verso S from 2010 – 2015 has PCD 5 x 100
Toyota Voltz from 2002 – 2004 has PCD 5 x 100
Volkswagen Taro 2WD from 1987 – 1999 has PCD 5 x 114,3
Volkswagen Caravelle from 1991 – 1996 has PCD 5 x 112
Volkswagen Caravelle from 1996 – 2003 has PCD 5 x 112
Volkswagen Caravelle from 2003 – 2015 has PCD 5 x 129
Volkswagen Amarok from 2010 – 2015 has PCD 5 x 120
Volkswagen Bora from 1998 – 2005 has PCD 5 x 100
Volkswagen Caddy from 2003 – 2015 has PCD 5 x 112
Volkswagen Caddy Life from 2004 – 2015 has PCD 5 x 112
Volkswagen CC from 2012 – 2015 has PCD 5 x 112
Volkswagen Corrado VR6 from 1991 – 1996 has PCD 5 x 100
Volkswagen Cross Golf from 2007 – 2009 has PCD 5 x 112
Volkswagen Cross Golf from 2010 – 2015 has PCD 5 x 112
Volkswagen Cross Polo from 2006 – 2009 has PCD 5 x 100
Volkswagen Cross Polo from 2010 – 2015 has PCD 5 x 100
Volkswagen Cross Touran from 2007 – 2015 has PCD 5 x 112
Volkswagen EOS from 2006 – 2015 has PCD 5 x 112
Volkswagen Fox from 2005 – 2011 has PCD 5 x 100
Volkswagen Golf 3 GTI from 1991 – 1996 has PCD 5 x 100
Volkswagen Golf 3 VR6 from 1991 – 1996 has PCD 5 x 100
Volkswagen Golf 4 from 1997 – 2003 has PCD 5 x 100
Volkswagen Golf 4 R32 from 2002 – 2004 has PCD 5 x 100
Volkswagen Golf 5 from 2003 – 2008 has PCD 5 x 112
Volkswagen Golf 5 GTI from 2004 – 2008 has PCD 5 x 112
Volkswagen Golf 5 Plus from 2005 – 2009 has PCD 5 x 112
Volkswagen Golf 5 R32 from 2005 – 2008 has PCD 5 x 112
Volkswagen Golf 6 from 2008 – 2012 has PCD 5 x 112
Volkswagen Golf 6 Plus from 2009 – 2014 has PCD 5 x 112
Volkswagen Golf 7 from 2012 – 2015 has PCD 5 x 112
Volkswagen Golf 7 R from 2013 – 2015 has PCD 5 x 112
Volkswagen Golf Sportsvan from 2014 – 2015 has PCD 5 x 112
Volkswagen Jetta from 2005 – 2011 has PCD 5 x 112
Volkswagen Jetta from 2011 – 2015 has PCD 5 x 112
Volkswagen LT 28 from 2000 – 2006 has PCD 5 x 130
Volkswagen LT 35 from 2000 – 2006 has PCD 5 x 130
Volkswagen LT 28 from 1996 – 2006 has PCD 5 x 130
Volkswagen LT 35 from 1996 – 2006 has PCD 5 x 130
Volkswagen LT 46 from 1996 – 2006 has PCD 5 x 130
Volkswagen New Beetle from 2011 – 2015 has PCD 5 x 112
Volkswagen New Beetle from 1998 – 2011 has PCD 5 x 100
Volkswagen Passat 2,0 TDI from 2014 – 2015 has PCD 5 x 112
Volkswagen Passat from 1993 – 1996 has PCD 5 x 100
Volkswagen Passat B4 VR6 from 1991 – 1996 has PCD 5 x 10
Volkswagen Passat B5 from 1996 – 2005 has PCD 5 x 112
Volkswagen Passat B6 from 2005 – 2010 has PCD 5 x 112
Volkswagen Passat B7 from 2010 – 2014 has PCD 5 x 112
Volkswagen Passat B7 Alltrack from 2012 – 2015 has PCD 5 x 112
Volkswagen Passat CC from 2008 – 2012 has PCD 5 x 112
Volkswagen Passat W8 from 2001 – 2005 has PCD 5 x 112
Volkswagen Phaeton from 2002 – 2015 has PCD 5 x 112
Volkswagen Polo from 2010 – 2015 has PCD 5 x 100
Volkswagen Polo 9N from 2001 – 2009 has PCD 5 x 100
Volkswagen Scirocco from 2008 – 2015 has PCD 5 x 112
Volkswagen Scirocco R from 2010 – 2015 has PCD 5 x 112
Volkswagen Sharan from 1995 – 2010 has PCD 5 x 112
Volkswagen Sharan from 2010 – 2015 has PCD 5 x 112
Volkswagen Tiguan from 2007 – 2015 has PCD 5 x 112
Volkswagen Touareg from 2002 – 2010 has PCD 5 x 130
Volkswagen Touareg from 2010 – 2015 has PCD 5 x 130
Volkswagen Touareg VR5 TDI from 2002 – 2010 has PCD 5 x 120
Volkswagen Touran from 2003 – 2010 has PCD 5 x 112
Volkswagen Touran from 2010 – 2015 has PCD 5 x 112
Volkswagen Transporter T2 from 1967 – 1979 has PCD 5 x 112
Volkswagen Transporter T3 from 1979 – 1990 has PCD 5 x 112
Volkswagen Transporter T4 from 1990 – 1995 has PCD 5 x 112
Volkswagen Transporter T4 from 1996 – 2003 has PCD 5 x 112
Volkswagen Transporter T5 from 2003 – 2010 has PCD 5 x 120
Volkswagen Transporter T6 from 2010 – 2015 has PCD 5 x 120
Volkswagen Vento VR6 from 1995 – 1998 has PCD 5 x 100
Volvo 149 from 1966 – 1974 has PCD 5 x 108
Volvo 240 from 1974 – 1993 has PCD 5 x 108
Volvo 740 from 1984 – 1992 has PCD 5 x 108
Volvo 745 from 1984 – 1992 has PCD 5 x 108
Volvo 850 from 1993 – 1997 has PCD 5 x 108
Volvo 940 from 1990 – 1998 has PCD 5 X 108
Volvo 960 from 1990 – 1994 has PCD 5 x 108
Volvo 960 from 1994 – 1997 has PCD 5 x 108
Volvo C30 from 2006 – 2012 has PCD 5 x 108
Volvo C70 from 1998 – 2006 has PCD 5 x 108
Volvo C70 from 2006 – 2015 has PCD 5 x 108
Volvo S40 from 2004 – 2012 has PCD 5 x 108
Volvo S60 from 2000 – 2010 has PCD 5 x 108
Volvo S60 from 2010 – 2015 has PCD 5 x 108
Volvo S60R from 2003 – 2010 has PCD 5 x 108
Volvo S70 from 1997 – 2000 has PCD 5 x 108
Volvo S80 from 1998 – 2006 has PCD 5 x 108
Volvo S80 from 2006 – 2015 has PCD 5 x 108
Volvo S90 from 1994 – 1998 has PCD 5 x 108
Volvo V40 from 2012 – 2015 has PCD 5 x 108
Volvo V40 Cross Country from 2012 – 2015 has PCD 5 x 108
Volvo V50 from 2004 – 2012 has PCD 5 x 108
Volvo V60 from 2010 – 2015 has PCD 5 x 108
Volvo V60 Cross Country from 2015 – 2015 has PCD 5 x 108
Volvo V60 Polestar from 2014 – 2015 has PCD 5 x 108
Volvo V70 from 1997 – 2000 has PCD 5 x 108
Volvo V70 from 2000 – 2007 has PCD 5 x 108
Volvo V70 from 2007 – 2015 has PCD 5 x 108
Volvo V70R from 2003 – 2007 has PCD 5 x 108
Volvo XC60 from 2008 – 2015 has PCD 5 x 108
Volvo XC70 from 2000 – 2007 has PCD 5 x 108
Volvo XC70 from 2007 – 2015 has PCD 5 x 108
Volvo XC90 from 2002 – 2014 has PCD 5 x 108
Volvo XC90 from 2015 – 2015 has PCD 5 x 108
Alfa Romeo 164 3,0 V6 from 1993 – 1998 has PCD 5 x 98
Alfa Romeo 164 Q4 4×4 from 1993 – 1998 has PCD 5 x 98
Alfa Romeo 75 V6 from 1987 – 1992 has PCD 5 x 98
Alfa Romeo GTV V6 from 1983 – 1987 has PCD 5 x 98
Alfa Romeo Spider V6 from 1995 – 2006 has PCD 5 x 98
Aston Martin DB7 from 1994 – 2004 has PCD 5 x 120,65
Aston Martin Lagonda from 1974 – 1989 has PCD 5 x 120,65
Aston Martin V8 Vantage from 2007 – 2015 has PCD 5 x 114,3
Aston Martin Virage from 1989 – 1995 has PCD 5 x 120,65
Audi A1 from 2010 – 2015 has PCD 5 x 100
Audi A3 from 2012 – 2015 has PCD 5 x 112
Audi A4 CC from 2002 – 2009 has PCD 5 x 112
Audi A6 from 2011 – 2015 has PCD 5 x 112
Audi A8 from 2010 – 2015 has PCD 5 x 112
Audi Q3 from 2011 – 2015 has PCD 5 x 112
Audi Allroad Quattro from 2012 – 2015 has PCD 5 x 112
Audi Q7 V12 TDI from 2008 – 2015 has PCD 5 x 130
Audi QS5 from 2013 – 2015 has PCD 5 x 112
Audi RS2 from 1994 – 1996 has PCD 5 x 130
Audi RS3 from 2011 – 2015 has PCD 5 x 112
Audi RS5 from 2010 – 2015 has PCD 5 x 112
Audi RS6 from 2008 – 2010 has PCD 5 x 112
Audi RS7 Sportback from 2013 – 2015 has PCD 5 x 112
Audi S6 4G from 2011 – 2015 has PCD 5 x 112
Audi S7 from 2011 – 2015 has PCD 5 x 112
Audi S8 from 1996 – 2002 has PCD 5 x 112
Audi S8 from 2006 – 2010 has PCD 5 x 112
Audi S8 from 2011 – 2015 has PCD 5 x 112
Audi SQ5 from 2012 – 2015 has PCD 5 x 112
Audi TT CC 1,8 Turbo from 1999 – 2007 has PCD 5 x 100
Audi TT Coupe 1,8 Turbo from 1998 – 2006 has PCD 5 x 100
Audi TT RS from 2009 – 2015 has PCD 5 x 112
Audi Ur-Quattro from 1980 – 1991 has PCD 5 x 112
Bentley Arnage from 1998 – 2009 has PCD 5 x 120
Bentley Azure from 1995 – 2002 has PCD 5 x 120
Bentley Azure from 2006 – 2009 has PCD 5 x 120
Bentley Brooklands from 2008 – 2011 has PCD 5 x 120
Bentley Continental Flying Spur from 2005 – 2015 has PCD 5 x 112
Bentley Continental GT from 2003 – 2010 has PCD 5 x 112
Bentley Continental GT from 2010 – 2015 has PCD 5 x 112
Bentley Continental GTC from 2003 – 2010 has PCD 5 x 112
Bentley Continental GTC from 2011 – 2015 has PCD 5 x 112
Bentley Mulsanne from 2010 – 2015 has PCD 5 x 130
Jeep Cherokee from 2002 – 2007 has PCD 5 x 114,3
Jeep Cherokee from 2008 – 2013 has PCD 5 x 114,3
Jeep Cherokee XJ from 1984 – 2001 has PCD 5 x 114,3
Jeep CJ7 from 1976 – 1986 has PCD 5 x 139,7
Jeep Commander from 2006 – 2010 has PCD 5 x 127
Jeep Compass from 2006 – 2015 has PCD 5 x 114,3
Jeep Grand Cherokee from 1984 – 1999 has PCD 5 x 114,3
Jeep Grand Cherokee from 1999 – 2004 has PCD 5 x 127
Jeep Grand Cherokee from 2004 – 2010 has PCD 5 x 127
Jeep Grand Cherokee from 2010 – 2015 has PCD 5 x 127
Jeep Grand Cherokee SRT from 2012 – 2015 has PCD 5 x 127
Jeep Liberty from 2002 – 2007 has PCD 5 x 114,3
Jeep Liberty from 2008 – 2013 has PCD 5 x 114,3
Jeep Patriot from 2007 – 2015 has PCD 5 x 114,3
Jeep Renegade from 2014 – 2015 has PCD 5 x 110
Jeep Wagoneer from 1984 – 1991 has PCD 5 x 114,3
Jeep Wrangler from 1987 – 2006 has PCD 5 x 114,3
Jeep Wrangler from 2007 – 2015 has PCD 5 x 127
Land Rover Defender from 1991 – 2015 has PCD 5 x 165,1
Land Rover Discovery from 1991 – 1998 has PCD 5 x 165,1
Land Rover Discovery from 1998 – 2005 has PCD 5 x 120
Land Rover Discovery from 2005 – 2009 has PCD 5 x 120
Land Rover Discovery from 2009 – 2015 has PCD 5 x 120
Land Rover Evoque from 2011 – 2015 has PCD 5 x 108
Land Rover Freelander from 1998 – 2006 has PCD 5 x 114,3
Land Rover Freelander from 2006 – 2015 has PCD 5 x 108
Land Rover Range Rover from 1970 – 1994 has PCD 5 x 165,1
Land Rover Range Rover from 1995 – 2002 has PCD 5 x 120
Land Rover Range Rover from 2002 – 2009 has PCD 5 x 120
Land Rover Range Rover from 2009 – 2015 has PCD 5 x 120
Lamborghini Aventador from 2011 – 2015 has PCD 5 x 120
Lamborghini Gallardo from 2003 – 2015 has PCD 5 x 112
Lamborghini Gallardo Spyder from 2006 – 2015 has PCD 5 x 112
Lotus Exige S2 from 2005 – 2015 has PCD 5 x 100
Mini Cooper from 2014 – 2015 has PCD 5 x 112
Mini Cooper S from 2014 – 2015 has PCD 5 x 112
Mini Countryman from 2010 – 2015 has PCD 5 x 120
Mini One from 2014 – 2015 has PCD 5 x 112
Mini Paceman from 2012 – 2015 has PCD 5 x 120
Citroen C4 Grand Picasso from 2013 – 2015 has PCD 5 x 108
Dodge Caravan from 2001 – 2007 has PCD 5 x 114,3
Dodge Caravan from 2007 – 2015 has PCD 5 x 114,3
Dodge Challenger from 2008 – 2015 has PCD 5 x 115
Dodge Charger from 2006 – 2015 has PCD 5 x 115
Dodge Dakota from 2004 – 2015 has PCD 5 x 139,7
Dodge Dart from 2012 – 2015 has PCD 5 x 110
Dodge Durango from 2004 – 2008 has PCD 5 x 139,7
Dodge Durango from 2011 – 2015 has PCD 5 x 127
Dodge Magnum from 2004 – 2008 has PCD 5 x 115
Dodge Magnum 4×4 from 2004 – 2008 has PCD 5 x 115
Dodge Ram 1500 from 2009 – 2012 has PCD 5 x 139,7
Dodge Ram 1500 from 2012 – 2015 has PCD 5 x 139,7
Dodge Ramcharger from 1979 – 1983 has PCD 5 x 139,7
Dodge Stratus from 1995 – 2000 has PCD 5 x 110
BMW 2 Serie F45 from 2014 – 2015 has PCD 5 x 112
BMW 2 Serie CC F22 from 2014 – 2015 has PCD 5 x 120
BMW 2 Serie Coupe F22 from 2013 – 2015 has PCD 5 x 120
BMW 2 Serie Grand Tourer F46 from 2015 – 2015 has PCD 5 x 112
BMW 4 Serie CC F33 from 2014 – 2015 has PCD 5 x 120
BMW 4 Serie Coupe F32 from 2013 – 2015 has PCD 5 x 120
BMW 4 Serie Grand Coupe F36 from 2014 – 2015 has PCD 5 x 120
BMW i3 from 2013 – 2015 has PCD 5 x 120
BMW i8 from 2014 – 2015 has PCD 5 x 112
BMW 8 Serie E31 from 1989 – 1998 has PCD 5 x 120
BMW M3 E36 from 1992 – 1999 has PCD 5 x 120
BMW M3 F80 from 2014 – 2015 has PCD 5 x 120
BMW M4 F82 from 2014 – 2015 has PCD 5 x 120
BMW M5 E34 from 1988 – 1995 has PCD 5 x 120
BMW M5 E61 from 2007 – 2010 has PCD 5 x 120
BMW M5 F10 from 2011 – 2015 has PCD 5 x 120
BMW M6 E63 from 2005 – 2010 has PCD 5 x 120
BMW M6 E64 from 2005 – 2010 has PCD 5 x 120
BMW M6 F12 CC from 2012 – 2015 has PCD 5 x 120
BMW M6 F13 Coupe from 2012 – 2015 has PCD 5 x 120
BMW M6 F14 Gran Coupe from 2013 – 2015 has PCD 5 x 120
BMW X1 E84 from 2009 – 2015 has PCD 5 x 120
BMW X4 F26 from 2014 – 2015 has PCD 5 x 120
BMW Z8 E52 from 2000 – 2003 has PCD 5 x 120
Chevrolet El Camino from 1959 – 1987 has PCD 5 x 120,6
Chevrolet Equinox from 2004 – 2009 has PCD 5 x 115
Chevrolet Equinox from 2009 – 2015 has PCD 5 x 120
Chevrolet G20 Van from 1976 – 1988 has PCD 5 x 127
Chevrolet G20 Van from 1988 – 2003 has PCD 5 x 127
Chevrolet HHR from 2005 – 2011 has PCD 5 x 110
Chevrolet Impala from 1957 – 1971 has PCD 5 x 120,6
Chevrolet Impala from 1971 – 1977 has PCD 5 x 127
Chevrolet Impala from 1994 – 1998 has PCD 5 x 127
Chevrolet Malibu from 1964 – 1983 has PCD 5 x 120,6
Chevrolet Malibu from 1997 – 2004 has PCD 5 x 115
Chevrolet Malibu from 2004 – 2015 has PCD 5 x 110
Chevrolet Nova from 1964 – 1981 has PCD 5 x 120,6
Chevrolet Orlando from 2011 – 2015 has PCD 5 x 115
Chevrolet Transport 4WD from 2002 – 2005 has PCD 5 x 115
Chevrolet Trax from 2013 – 2015 has PCD 5 x 105
Chevrolet Volt from 2012 – 2015 has PCD 5 x 115
Chevrolet Beretta from 1989 – 1996 has PCD 5 x 100
Chevrolet Biscayne from 1971 – 1976 has PCD 5 x 127
Chevrolet Blazer 2WD from 1986 – 2004 has PCD 5 x 120,6
Chevrolet Blazer 4WD from 1986 – 2004 has PCD 5 x 120,6
Chevrolet Camaro from 1969 – 1982 has PCD 5 x 120,6
Chevrolet Camaro from 1982 – 1992 has PCD 5 x 120,6
Chevrolet Camaro from 1994 – 2002 has PCD 5 x 120,6
Chevrolet Caprice from 1971 – 1997 has PCD 5 x 127
Chevrolet Caprice from 1989 – 1997 has PCD 5 x 120,6
Chevrolet Caprice from 1991 – 1998 has PCD 5 x 127
Chevrolet Cavalier from 1982 – 2005 has PCD 5 x 100
Chevrolet Celebrity from 1982 – 1990 has PCD 5 x 115
Chevrolet Chevelle from 1964 – 1977 has PCD 5 x 120,6
Chevrolet Corsica from 1989 – 1996 has PCD 5 x 100
Chevrolet Corvette C4 from 1984 – 1987 has PCD 5 x 120,6
Chevrolet Corvette C5 from 1997 – 2003 has PCD 5 x 120,6
Chevrolet Alero from 1998 – 2001 has PCD 5 x 115
Chevrolet Astro Van from 1985 – 2003 has PCD 5 x 127
Chevrolet Aveo from 2011 – 2015 has PCD 5 x 105
Chevrolet Bel Air from 1955 – 1970 has PCD 5 x 120,6
Chevrolet Bel Air from 1971 – 1976 has PCD 5 x 127
Chevrolet Bel Air from 1977 – 1990 has PCD 5 x 120,6
Citroen C4 Aircross from 2012 – 2015 has PCD 5 x 114,3
Citroen Jumper from 1994 – 2006 has PCD 5 x 118
Citroen Jumper from 2006 – 2010 has PCD 5 x 118
Citroen Jumper from 2010 – 2015 has PCD 5 x 118
Citroen Jumper Maxi from 2006 – 2010 has PCD 5 x 130
Citroen Jumper Maxi from 2010 – 2015 has PCD 5 x 130
Citroen Jumpy from 2006 – 2015 has PCD 5 x 108
Citroen Relay from 1994 – 2006 has PCD 5 x 118
Citroen Relay from 2006 – 2010 has PCD 5 x 118
Citroen Relay Maxi from 1994 – 2006 has PCD 5 x 130
Citroen Relay Maxi from 2006 – 2010 has PCD 5 x 130
Citroen Relay Maxi from 2010 – 2015 has PCD 5 x 130
Citroen XM from 1989 – 2001 has PCD 5 x 108
Citroen C-Crosser from 2007 – 2015 has PCD 5 x 114,3
Fiat 500 L Trekking from 2013 – 2015 has PCD 5 x 98
Fiat 500 L from 2012 – 2015 has PCD 5 x 98
Fiat 500 X from 2014 – 2015 has PCD 5 x 110
Fiat Doblo Maxi from 2010 – 2015 has PCD 5 x 98
Fiat Ducato from 2010 – 2015 has PCD 5 x 118
Fiat Ducato Maxi from 1994 – 2006 has PCD 5 x 130
Fiat Ducato Maxi from 2006 – 2010 has PCD 5 x 130
Fiat Ducato Maxi from 2010 – 2015 has PCD 5 x 130
Fiat Freemont from 2011 – 2015 has PCD 5 x 127
Fiat Sedici from 2006 – 2015 has PCD 5 x 114,3
Ford 500 from 2005 – 2008 has PCD 5 x 114,3
Ford Aerostar from 1985 – 1997 has PCD 5 x 114,3
Ford C-Max from 2003 – 2010 has PCD 5 x 108
Ford C-Max from 2010 – 2015 has PCD 5 x 108
Ford Edge from 2006 – 2015 has PCD 5 x 114,3
Ford Escape from 2000 – 206 has PCD 5 x 114,3
Ford Escape from 2007 – 2012 has PCD 5 x 108
Ford Escape from 2012 – 2015 has PCD 5 x 108
Ford Explorer from 1991 – 2002 has PCD 5 x 114,3
Ford Explorer from 2002 – 2015 has PCD 5 x 114,3
Ford Flex from 2009 – 2015 has PCD 5 x 114,3
Ford Focus ST from 2012 – 2015 has PCD 5 x 108
Ford Grand C-Max from 2010 – 2015 has PCD 5 x 108
Ford Mondeo from 2014 – 2015 has PCD 5 x 108
Ford Mustang from 1994 – 2004 has PCD 5 x 114,3
Ford Mustang Shelby GT500 from 2006 – 2015 has PCD 5 x 114,3
Ford Transit from 2002 – 2006 has PCD 5 x 160
Ford Transit 2,0 from 2006 – 2012 has PCD 5 x 160
Ford Transit 2,2 from 2006 – 2012 has PCD 5 x 160
Ford Transit 2,3 from 2001 – 2013 has PCD 5 x 160
Ford Transit 2,4 from 2001 – 2013 has PCD 5 x 160
Ford Transit Connect from 2003 – 2013 has PCD 5 x 108
Ford Transit Connect from 2013 – 2015 has PCD 5 x 108
Ford Transit Custom 2,7 turbo from 2013 – 2015 has PCD 5 x 160
Ford Transit Custom 2,9 turbo from 2013 – 2015 has PCD 5 x 160
Ford Transit Custom 3,1 turbo from 2013 – 2015 has PCD 5 x 160
Ford Transit Custom 3,3 turbo from 2013 – 2015 has PCD 5 x 160
Honda Accord Coupe from 1998 – 2001 has PCD 5 x 114,3
Honda Civic from 2012 – 2015 has PCD 5 x 114,3
Honda Civic Hybrid from 2006 – 2011 has PCD 5 x 114,3
Honda Civic Type R from 2001 – 2006 has PCD 5 x 114,3
Honda Civic Type R from 2007 – 2015 has PCD 5 x 114,3
Honda CR-Z from 2010 – 2015 has PCD 5 x 114,3
Honda Element from 2005 – 2015 has PCD 5 x 114,3
Honda Integra Type R from 1998 – 2001 has PCD 5 x 114,3
Honda Odyssey from 2005 – 2015 has PCD 5 x 120
Honda S2000 from 1999 – 2009 has PCD 5 x 114,3
Hyundai Genesis from 2008 – 2015 has PCD 5 x 114,3
Hyundai Grandeur from 2005 – 2011 has PCD 5 x 114,3
Hyundai i30 from 2012 – 2015 has PCD 5 x 114,3
Hyundai i40 from 2011 – 2015 has PCD 5 x 114,3
Hyundai ix20 from 2010 – 2015 has PCD 5 x 114,3
Hyundai ix55 from 2009 – 2015 has PCD 5 X 114,3
Hyundai Veloster from 2011 – 2015 has PCD 5 x 114,3
Hyundai XG from 2000 – 2006 has PCD 5 x 114,3
Kia Motors Amanti from 2002 – 2010 has PCD 5 x 114,3
Kia Motors Carnival from 1999 – 2006 has PCD 5 x 114,3
Kia Motors Optima from 2005 – 2015 has PCD 5 x 114,3
Kia Motors Sorento from 2002 – 2009 has PCD 5 x 139,7
Kia Motors Sorento from 2009 – 2015 has PCD 5 x 114,3
Kia Motors Sportage from 2010 – 2015 has PCD 5 x 114,3
Lexus CT200h from 2011 – 2015 has PCD 5 x 100
Lexus GS300 from 2005 – 2012 has PCD 5 x 114,3
Lexus GS300 from 2005 – 2012 has PCD 5 x 114,3
Lexus GS430 from 2001 – 2005 has PCD 5 x 114,3
Lexus GS450h from 2012 – 2015 has PCD 5 x 114,3
Lexus LS250 from 2006 – 2013 has PCD 5 x 114,3
Lexus LS300h from 2013 – 2015 has PCD 5 x 114,3
Lexus LS460 from 2006 – 2010 has PCD 5 x 120
Lexus LS600 from 2007 – 2010 has PCD 5 x 120
Lexus LX470 from 1998 – 2007 has PCD 5 x 150
Lexus LX570 from 2008 – 2015 has PCD 5 x 150
Lexus RX300 from 2003 – 2009 has PCD 5 x 114,3
Lexus RX300 from 2009 – 2015 has PCD 5 x 114,3
Lexus RX330 from 2003 – 2009 has PCD 5 x 114,3
Lexus SC430 from 2001 – 2010 has PCD 5 x 114,3
Mazda 3 from 2013 – 2015 has PCD 5 x 114,3
Mazda 3 MPS from 2009 – 2015 has PCD 5 x 114,3
Mazda CX-5 from 2012 – 2015 has PCD 5 x 114,3
Mazda RX-7 from 1986 – 1992 has PCD 5 x 114,3
Mazda RX-7 from 1992 – 2002 has PCD 5 x 114,3
Mercedes-Benz A-Klasse W169 from 2004 – 2012 has PCD 5 x 112
Mercedes-Benz A-Klasse W176 from 2012 – 2015 has PCD 5 x 112
Mercedes-Benz A-Klasse W176 AMG from 2013 – 2015 has PCD 5 x 112
Mercedes-Benz B-Klasse T245 from 2005 – 2011 has PCD 5 x 112
Mercedes-Benz B-Klasse W246 from 2011 – 2015 has PCD 5 x 112
Mercedes-Benz C-Klasse W202 C36 AMG from 1995 – 1998 has PCD 5 x 112
Mercedes-Benz C-Klasse W202 C43 AMG from 1998 – 2000 has PCD 5 x 112
Mercedes-Benz C-Klasse W203 from 2000 – 2007 has PCD 5 x 112
Mercedes-Benz C-Klasse W204 from 2007 – 2015 has PCD 5 x 112
Mercedes-Benz C-Klasse W204 C63 AMG from 2008 – 2015 has PCD 5 x 112
Mercedes-Benz CL-Klasse W215 from 1999 – 2005 has PCD 5 x 112
Mercedes-Benz CL-Klasse W216 from 2006 – 2015 has PCD 5 x 112
Mercedes-Benz CL-Klasse W216 C63 AMG from 2006 – 2015 has PCD 5 x 112
Mercedes-Benz CLA from 2013 – 2015 has PCD 5 x 112
Mercedes-Benz CLA 45 AMG from 2013 – 2015 has PCD 5 x 112
Mercedes-Benz CLC-Klasse CL203 from 2008 – 2015 has PCD 5 x 112
Mercedes-Benz CLK W209 from 2002 – 2009 has PCD 5 x 112
Mercedes-Benz CLK W209 CLK63 AMG from 2006 – 2009 has PCD 5 x 112
Mercedes-Benz CLS W218 from 2010 – 2015 has PCD 5 x 112
Mercedes-Benz CLS W218 CLS63 AMG from 2011 – 2015 has PCD 5 x 112
Mercedes-Benz CLS W219 from 2004 – 2010 has PCD 5 x 112
Mercedes-Benz CLS W219 CLS63 AMG from 2006 – 2010 has PCD 5 X 112
Mercedes-Benz E-Klasse C207 from 2009 – 2015 has PCD 5 x 112
Mercedes-Benz E-Klasse R207 from 2010 – 2015 has PCD 5 x 112
Mercedes-Benz E-Klasse W210 E50 AMG from 1996 – 2003 has PCD 5 x 112
Mercedes-Benz E-Klasse W211 from 2002 – 2009 has PCD 5 x 112
Mercedes-Benz E-Klasse W211 E55 AMG from 2002 – 2006 has PCD 5 x 112
Mercedes-Benz E-Klasse W211 E63 AMG from 2006 – 2009 has PCD 5 x 112
Mercedes-Benz E-Klasse W212 from 2009 – 2015 has PCD 5 x 112
Mercedes-Benz E-Klasse W212 E63 AMG from 2009 – 2015 has PCD 5 x 112
Mercedes-Benz G-Klasse W460 from 1979 – 1991 has PCD 5 x 130
Mercedes-Benz G-Klasse W461 from 1991 – 200 has PCD 5 x 130
Mercedes-Benz G-Klasse W463 from 1990 – 2015 has PCD 5 x 130
Mercedes-Benz GL-Klasse X164 from 2006 – 2015 has PCD 5 x 112
Mercedes-Benz GLA-Klasse from 2013 – 2015 has PCD 5 x 112
Mercedes-Benz GLK-Klasse X204 from 2008 – 2015 has PCD 5 x 112
Mercedes-Benz M-Klasse W163 from 1997 – 2001 has PCD 5 x 112
Mercedes-Benz M-Klasse W163 from 2002 – 2005 has PCD 5 x 112
Mercedes-Benz M-Klasse W164 from 2005 – 2011 has PCD 5 x 112
Mercedes-Benz M-Klasse W164 ML63 AMG from 2006 – 2011 has PCD 5 x 112
Mercedes-Benz M-Klasse W166 from 2012 – 2015 has PCD 5 x 112
Mercedes-Benz M-Klasse W166 ML63 AMG from 2012 – 2015 has PCD 5 x 112
Mercedes-Benz R-Klasse W251 from 2006 – 2013 has PCD 5 x 112
Mercedes-Benz S-Klasse W140 from 1991 – 1998 has PCD 5 x 112
Mercedes-Benz S-Klasse W220 from 1998 – 2005 has PCD 5 x 112
Mercedes-Benz S-Klasse W220 S55 AMG from 1999 – 2002 has PCD 5 x 112
Mercedes-Benz S-Klasse W221 from 2005 – 2013 has PCD 5 x 112
Mercedes-Benz S-Klasse W221 S63 AMG from 2006 – 2013 has PCD 5 x 112
Mercedes-Benz S-Klasse W222 from 2013 – 2015 has PCD 5 x 112
Mercedes-Benz SL R230 from 2001 – 2008 has PCD 5 x 112
Mercedes-Benz SL R230 from 2008 – 2011 has PCD 5 x 112
Mercedes-Benz SL R231 from 2012 – 2015 has PCD 5 x 112
Mercedes-Benz SLK R171 from 2004 – 2011 has PCD 5 x 112
Mercedes-Benz SLK R172 from 2011 – 2015 has PCD 5 x 112
Mercedes-Benz SLK R172 SLK55 AMG from 2012 – 2015 has PCD 5 x 112
Mercedes-Benz Sprinter from 1995 – 1999 has PCD 5 x 130
Mercedes-Benz Sprinter from 2000 – 2006 has PCD 5 x 130
Mercedes-Benz Vaneo W414 from 2002 – 2006 has PCD 5 x 112
Mercedes-Benz Viano W639 from 2004 – 2015 has PCD 5 x 112
Mercedes-Benz Vito W638 from 1996 – 2003 has PCD 5 x 112
Mercedes-Benz Vito W639 from 2003 – 2014 has PCD 5 x 112
Mercedes-Benz Vito W640 from 2014 – 2015 has PCD 5 x 112
Mitsubishi ASX from 2010 – 2015 has PCD 5 x 114,3
Mitsubishi Grandis from 2004 – 2010 has PCD 5 x 114,3
Mitsubishi Lancer EVO from 2006 – 2008 has PCD 5 x 114,3
Mitsubishi Lancer EVO from 1998 – 1998 has PCD 5 x 114,3
Mitsubishi Lancer EVO from 1999 – 2001 has PCD 5 x 114,3
Mitsubishi Lancer EVO from 2001 – 2002 has PCD 5 x 114,3
Mitsubishi Lancer EVO from 2003 – 2005 has PCD 5 x 114,3
Mitsubishi Lancer EVO from 2008 – 2015 has PCD 5 x 114,3
Mitsubishi Outlander from 2003 – 2007 has PCD 5 x 114,3
Mitsubishi Outlander from 2007 – 2012 has PCD 5 x 114,3
Mitsubishi Outlander from 2012 – 2015 has PCD 5 x 114,3
Nissan Cefiro from 1995 – 2004 has PCD 5 x 114,3
Nissan e-NV200 from 2014 – 2015 has PCD 5 x 114,3
Nissan Fuga from 2004 – 2009 has PCD 5 x 114,3
Nissan Fuga from 2009 – 2015 has PCD 5 x 114,3
Nissan GT-R from 2008 – 2015 has PCD 5 x 114,3
Nissan Interstar from 2002 – 2010 has PCD 5 x 130
Nissan Juke from 2010 – 2015 has PCD 5 x 114,3
Nissan Leaf from 2010 – 2015 has PCD 5 x 114,3
Nissan Murano Z50 from 2004 – 2008 has PCD 5 x 114,3
Nissan Murana Z51 from 2008 – 2015 has PCD 5 x 114,3
Nissan NV400 from 2011 – 2015 has PCD 5 x 130
Nissan Primastar from 2003 – 2015 has PCD 5 x 18
Nissan Pulsar from 2014 – 2015 has PCD 5 x 114,3
Nissan Qashqai J10 from 2007 – 2015 has PCD 5 x 114,3
Nissan Qashqai Plus 2 J10 from 2008 – 2015 has PCD 5 x 114,3
Nissan Quest from 2004 – 2015 has PCD 5 x 114,3
Nissan Rogue from 2007 – 2015 has PCD 5 x 114,3
Nissan Teana from 2006 – 2008 has PCD 5 x 114,3
Nissan Teana from 2008 – 2015 has PCD 5 x 114,3
Nissan Vanette Cargo from 1995 – 2001 has PCD 5 x 114,3
Nissan X-Trail T30 from 2001 – 2007 has PCD 5 x 114,3
Nissan X-Trail T31 from 2007 – 2014 has PCD 5 x 114,3
Nissan X-Trail T32 from 2014 – 2015 has PCD 5 x 114,3
Peugeot Boxer Maxi from 2006 – 2015 has PCD 5 x 130
Cars with 6 bolts PCD:
Chevrolet Tahoe from 2005 – 2015 has PCD 6 x 139,7
Chevrolet Trailblazer from 2002 – 2008 has PCD 6 x 127
Ford Ranger from 2003 – 2015 has PCD 6 x 139,7
Chevrolet SSR from 2003 – 2006 has PCD 6 x 127
Hummer H3 from 2005 – 2010 has PCD 6 x 139,7
Hyundai H-1 from 2008 – 2015 has PCD 6 x 139,7
Mazda B2600 4×4 from 1986 – 1993 has PCD 6 x 139,7
Mazda BT-50 from 2005 – 2011 has PCD 6 x 139,7
Mitsubishi L200 4×4 from 1996 – 2005 has PCD 6 x 139,7
Mitsubishi L200 4×4 from 2005 – 2015 has PCD 6 x 139,7
Mitsubishi L300 4×4 from 1986 – 2013 has PCD 6 x 139,7
Mitsubishi L400 4×4 from 1994 – 2006 has PCD 6 x 139,7
Mitsubishi Pajero L040 from 1983 – 1991 has PCD 6 x 139,7
Mitsubishi Pajero V20 from 1990 – 2000 has PCD 6 x 139,7
Nissan Terrano from 1985 – 1993 has PCD 6 x 139,7
Nissan Terrano from 1994 – 2007 has PCD 6 x 139,7
Nissan Patrol from 1987 – 1997 has PCD 6 x 139,7
Nissan Patrol GR from 1997 – 2013 has PCD 6 x 139,7
Opel Blitz from 1965 – 1975 has PCD 6 x 205
Opel Campo 2WD from 1988 – 2003 has PCD 6 x 139,7
Opel Campo 4WD from 1988 – 2003 has PCD 6 x 139,7
Opel Frontera from 1990 – 2004 has PCD 6 x 139,7
Saab 9-4X from 2011 – 2012 has PCD 6 x 120
Saab 9-7X from 2005 – 2008 has PCD 6 x 127
Ssang Yong Korando from 1997 – 2001 has PCD 6 x 139,7
Ssang Yong Musso from 1993 – 2005 has PCD 6 x 139,7
Ssang Yong Rexton from 2001 – 2006 has PCD 6 x 139,7
Toyota 4 Runner from 1989 – 1995 has PCD 6 x 139,7
Toyota 4 Runner from 2003 – 2009 has PCD 6 x 139,7
Toyota FJ Cruiser from 2006 – 2015 has PCD 6 x 139,7
Toyota Hi-Ace 2WD from 1995 – 2001 has PCD 6 x 139,7
Toyota Hi-Ace 4WD from 1989 – 1995 has PCD 6 x 139,7
Toyota Hi-Lux 4WD from 1989 – 1999 has PCD 6 x 139,7
Toyota Hi-Lux 4WD from 1999 – 2005 has PCD 6 x 139,7
Toyota Hi-Lux 4WD from 2006 – 2015 has PCD 6 x 139,7
Toyota Landcruiser Prado from 2002 – 2009 has PCD 6 x 139,7
Toyota Landcruiser Prado from 2010 – 2015 has PCD 6 x 139,7
Toyota Sequoia from 2001 – 2007 has PCD 6 x 139,7
Toyota Tacoma from 1995 – 2004 has PCD 6 x 139,7
Toyota Tundra from 1999 – 2007 has PCD 6 x 139,7
Volkswagen Taro 4WD from 1987 – 1999 has PCD 6 x 139,7
Volkswagen Crafter 30 from 2006 – 2013 has PCD 6 x 130
Volkswagen Crafter 35 from 2006 – 2013 has PCD 6 x 130
Volkswagen Crafter 30 from 2013 – 2015 has PCD 6 x 130
Volkswagen Crafter 35 from 2013 – 2015 has PCD 6 x 130
Dodge Dakota from 1997 – 2004 has PCD 6 x 114,3
Dodge Durango from 1998 – 2004 has PCD 6 x 114,3
Chevrolet Envoy from 2002 – 2015 has PCD 6 x 127
Chevrolet Uplander from 2005 – 2008 has PCD 6 x 115
Chevrolet CK from 1988 – 2010 has PCD 6 x 139,7
Chevrolet Colorado from 2005 – 2008 has PCD 6 x 139,7
Chevrolet Colorado from 2009 – 2015 has PCD 6 x 139,7
Chevrolet Astro 4WD from 2003 – 2015 has PCD 6 x 139,7
Chevrolet Avalanche from 2001 – 2015 has PCD 6 x 139,7
Ford Expedition from 2007 – 2015 has PCD 6 x 135
Ford Ranger from 1999 – 2006 has PCD 6 x 139,7
Ford Ranger from 2007 – 2011 has PCD 6 x 139,7
Ford Ranger from 2011 – 2015 has PCD 6 x 139,7
Hyundai Terracan from 2002 – 2007 has PCD 6 x 139,7
Kia Motors Bongo from 2000 – 2015 has PCD 6 x 139,7
Kia Motors Carnival from 2006 – 2015 has PCD 6 x 139,7
Kia Motors Pregio from 2000 – 2015 has PCD 6 x 139,7
Lexus GX460 from 2009 – 2015 has PCD 6 x 139,7
Lexus GX470 from 2002 – 2009 has PCD 6 x 139,7
Mazda B2500 from 1999 – 2006 has PCD 6 x 139,7
Mazda B2600 from 1999 – 2006 has PCD 6 x 139,7
Mazda E2000 from 1983 – 1999 has PCD 6 x 139,7
Mazda E2200 from 1983 – 1999 has PCD 6 x 139,7
Mazda E2000 from 1999 – 2005 has PCD 6 x 139,7
Mazda E2200 from 1999 – 2005 has PCD 6 x 139,7
Mercedes-Benz Sprinter 200 from 2006 – 2015 has PCD 6 x 130
Mercedes-Benz Sprinter 300 from 2006 – 2015 has PCD 6 x 130
Mercedes-Benz T2 from 1969 – 1996 has PCD 6 x 205
Nissan Navara from 1998 – 2004 has PCD 6 x 139,7
Nissan Navara from 2005 – 2015 has PCD 6 x 114,3
Nissan NP300 from 2005 – 2015 has PCD 6 x 139,7
Nissan Pathfinder from 1986 – 2004 has PCD 6 x 139,7
Nissan Pathfinder from 2005 – 2010 has PCD 6 x 114,3
Nissan Titan from 2003 – 2015 has PCD 6 x 139,7
Nissan Urvan from 1987 – 1995 has PCD 6 x 139,7
Nissan Urvan King from 1987 – 1995 has PCD 6 x 139,7
Nissan Xterra from 2005 – 2015 has PCD 6 x 114,3
Cars with 8 bolts PCD:
Hummer H2 from 2003 – 2010 has PCD 8 x 165,1
Dodge Pickup from 1971 – 1993 has PCD 8 x 165
Chevrolet Express from 1996 – 2015 has PCD 8 x 165
Ford Excursion from 2000 – 2005 has PCD 8 x 170